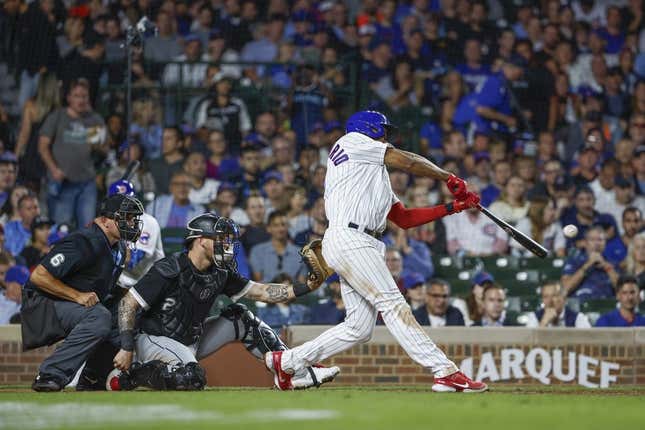 If the Chicago Cubs are to remain a postseason contender, they must take advantage of a favorable stretch in their schedule.
How running an NFL team is like running a restaurant | Chef Emeril Lagasse
That means avoiding a two-game home sweep at the hands of the lowly crosstown-rival White Sox on Wednesday night.
The Cubs are in the mix for the both the National League Central title and a wild-card spot. However, coming off a 3-3 road trip that included losing two of three games to the reeling New York Mets, the Cubs fell 5-3 on Tuesday to the White Sox, who are 24 games under .500 and were mired in a three-game losing streak entering that contest.
Tuesday's defeat proved to be a missed opportunity for the Cubs, who next will host the Kansas City Royals, in last place in the American League Central, for three games. The Cubs then will visit Detroit and Pittsburgh — also teams that are more than 10 games under .500.
"We've just got to move on to (Wednesday)," Cubs starter Kyle Hendricks said. "Got to win (Wednesday)."
Cubs All-Star Marcus Stroman was slated to come off a brief stint on the injured list with hip inflammation and start Wednesday, but he now is bothered by a rib issue. Instead, Cubs manager David Ross said it's "more than likely" that Javier Assad (2-2, 3.12 ERA) will make a third consecutive start.
The right-hander has blossomed in the Cubs bullpen but is 1-0 in making consecutive starts with Stroman out. Assad allowed one run, four hits and a walk over his career-high seven innings of Friday's 6-2 victory at Toronto.
"I'm taking advantage of every opportunity, whether it is as a starter or a reliever," Assad said. "I'm not sure what the future holds, but I'm definitely taking advantage of this opportunity."
Assad didn't allow a baserunner over 1 2/3 scoreless innings of relief against the White Sox on July 26. He's never faced All-Star Luis Robert Jr., who delivered a tie-breaking solo homer in the seventh on Tuesday.
With 32 homers this season, Robert is batting .383 with five homers and 11 RBIs in 12 career games vs. the Cubs.
Meanwhile, scheduled White Sox starter Mike Clevinger (5-5, 3.55 ERA) is 2-1 with a 2.25 ERA since coming off the injured list from a biceps issue on July 29. The right-hander lasted six innings last Wednesday during a 9-2 win over the New York Yankees, yielding a run, three hits and three walks while striking out six.
Despite an overall rough season for the White Sox, Clevinger seems content with his current situation.
"It's been a lot of fun, a lot of fun to show up here," he said. "Not looking at tomorrow, or the next day, or what happened two days ago."
Pitching for San Diego last season, Clevinger allowed two earned runs and six hits, while striking out six, in 4 1/3 innings against the Cubs.
It's uncertain if White Sox shortstop Tim Anderson will be available after he was scratched before Tuesday's game due to a stiff neck.
—Field Level Media