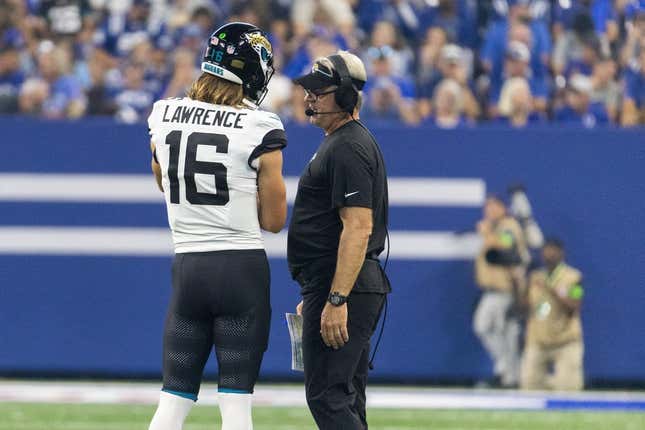 The Jacksonville Jaguars haven't defeated the Kansas City Chiefs since 2009, and four of the losses have been by 14 or more points.
How running an NFL team is like running a restaurant | Chef Emeril Lagasse
But the Jaguars (1-0) have their eyes on snapping their seven-game slide against the Chiefs (0-1) when two of the AFC top teams meet Sunday in north Florida.
Two of the losses came last season, including a painful one in the postseason. Kansas City posted a 27-17 home win during the regular season and then ended Jacksonville's season with a 27-20 home victory in the AFC Divisional round.
"The challenges are real," Jaguars coach Doug Pederson said. "We haven't fared so well against them, especially last year. It's a great opportunity for our team. It's a home game. We're looking forward to the challenge."
After last season's playoff loss, Jacksonville quarterback Trevor Lawrence stood in the tunnel that leads to the visitor's locker room at Arrowhead Stadium and congratulated every teammate who passed him.
The message was that better things were ahead for the Jaguars.
"After our season ended, you feel like you left something out there, missed opportunities and all that," Lawrence said Wednesday. "Right now, we have to obviously turn the page. It's a new year and we get another opportunity to play these guys. Obviously, didn't have a lot of success last year. Played them twice and didn't win either of those games."
Jacksonville won its opener, 31-21 over the host Indianapolis Colts last Sunday, while the Chiefs fell 21-20 to the visiting Detroit Lions on Sept. 7.
Kansas City four-time Pro Bowl defensive end Chris Jones missed the opener due to a holdout. But the final season of his four-year, $80 million contract was sweetened with playing time and performance incentives, and he's now back with the team.
Jones said Wednesday he will not further negotiate with the Chiefs during the current season.
"I don't want to go back and forth during the season," Jones said. "My focus right now is being the best me I can be for this team — being the best player on this defense, the best player in the league. Anything less than that is a disappointment to myself."
Kansas City coach Andy Reid hasn't yet determined how much playing time Jones will receive against the Jaguars. Jones was a limited practice participant on Wednesday.
"Chris is a good football player," Reid said Wednesday. "So having him back in is an important part of it. We're glad he's back. We'll just see where he's at physically as we go. He normally keeps himself in pretty good shape."
Kansas City eight-time Pro Bowl tight end Travis Kelce is expected back from a hyperextended knee that caused him to miss the opener. Kelce was limited in Wednesday's practice.
One player hoping to perform better is star quarterback Patrick Mahomes, the two-time NFL MVP.
Mahomes was plagued by drops from his receivers — one off the hands of Kadarius Toney was grabbed by Detroit's Brian Branch and returned 50 years for a touchdown.
But overall, Mahomes' 226 yards thrown was just 13th best in Week 1 and his 53.8 completion percentage was 28th of 32 qualifiers. Mahomes said some of his throws were off and he was occasionally late on his reads.
"We didn't execute at a high enough level, me included, in the first game," Mahomes said. "You have to keep building and try to make yourself better."
Mahomes certainly will be aware of Jaguars linebackers Josh Allen (career-high three sacks in Week 1) and Foyesade Oluokin, the NFL's leading tackler in each of the past two seasons.
Chiefs running back Clyde Edwards-Hilaire (illness) missed practice Wednesday. Cornerback L'Jarius Sneed (knee) was limited.
For Jacksonville, guard Brandon Scherff (ankle) was one of four players to miss practice. The others were center Luke Fortner (ankle), safety Antonio Johnson (hamstring) and cornerback Gregory Junior (hamstring). Defensive end Tyler Lacy (hip) was limited.
—Field Level Media