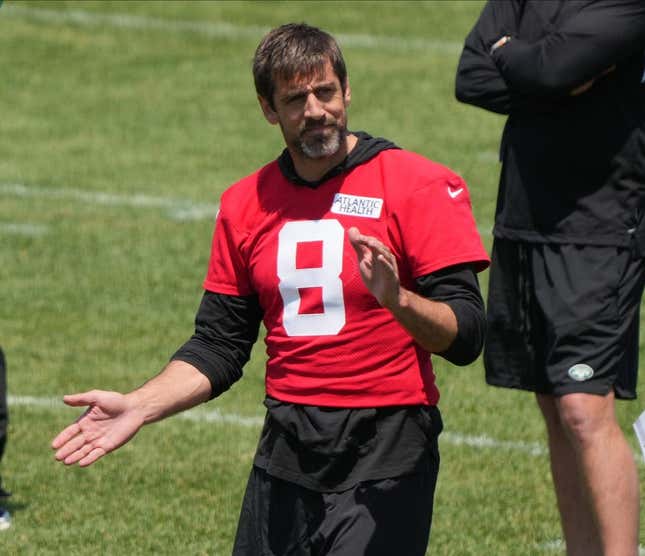 A new shade of green for Aaron Rodgers means a major shift for the New York Jets
What's different for the team with the former Packers quarterback and four-time MVP in the building? The easier question to answer might be: What's not?
How running an NFL team is like running a restaurant | Chef Emeril Lagasse
"He's a coach that can still play football," Jets coach Robert Saleh said Thursday on the second day of training camp with Rodgers in the fold. "He's very observant. He's watching everything. He's very connected. And not just to his teammates and coaches, but with everybody, and that includes the people upstairs, the chef, equipment guys. He's a world-class human.
The Jets moved to Rodgers, acquired via trade from the Packers, and demoted former top draft pick Zach Wilson. Wilson was benched last season but kept on the team while he "learns to be an NFL quarterback," a message Saleh repeated Thursday
Rodgers as QB1 for the Jets raised expectations and energy for players of all ages, including multiple former teammates and coaches who also came to New York
Cornerback D.J. Reed said there is a different feel in 2023, and it has a lot to do with the quarterback.
"Not gonna lie, the energy just feels different," Reed said. "We got Aaron Rodgers. We got some of our main guys back. We just signed (defensive tackle) Quinnen Williams."
Rodgers' goals for 2023 go beyond boosting energy in Jersey.
"You want to be part of a place that has high expectations. There's a lot of positivity around here, which is a good thing," Rodgers said Thursday. "With all the positivity comes people trying to knock you down a little bit. ... We've got to handle it the right way."
He turns 40 in December, when the Jets hope to be chasing the AFC East division title and fighting for home-field advantage. But Rodgers said he's learned to practice patience, and shared that message with second-year receiver Garrett Wilson and others on the field
"We've got to temper expectations, focus on the little things. There's a lot of excitement. That is fun," Rodgers said. "If we want to be playing in January, we've got to be consistent throughout the season."
After almost two decades reporting to the 1265 Lombardi address for training camp, Rodgers said "everything's different 19 years in" since showing up at 1 Jets Drive
"We're just building this thing right now," Rodgers said. "We're building it the right way. ... When it comes to ball, there's a right way to do things and a way that could slow us down."
Wide receiver Allen Lazard, who signed with the Jets after being Rodgers' teammate in Green Bay, noticed another familiar face at the team facility: offensive coordinator Nathaniel Hackett. Hackett enters his first year as the Jets' play-caller but is highly synchronized with Rodgers from their time together with the Packers
Lazard said the offense Hackett installed wasn't the Packers' system. "This is the Aaron Rodgers offense," he said Thursday. "The entire playbook is open at any given time."
The Rodgers Effect has grabbed hold for veterans, too, including inside linebacker C.J. Mosley. The 31-year-old elder statesman of the defense noted "Hard Knocks" cameras aren't the biggest difference in camp.
"Obviously we have a big name in Aaron Rodgers here," Mosley said. "You can kind of feel a lot of screws and bolts kind of tighten up, but that's expected with the name and the weight that he carries. Everybody's excited from top to bottom -- coaches, players, and you can talk to anybody in the building and everybody's going to have the same mindset and excitement."
--Field Level Media