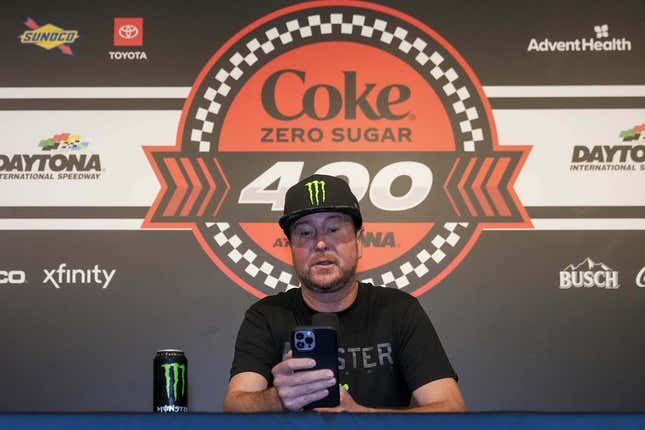 DAYTONA BEACH, Fla. — Kurt Busch, the first NASCAR champion crowned in the Playoff era, announced his retirement from Cup Series competition in a social media post on Saturday before taking questions from reporters in the Daytona International Speedway media center.
How running an NFL team is like running a restaurant | Chef Emeril Lagasse
Busch was sidelined with concussion-like symptoms last season after a wreck during qualifying at Pocono Raceway in July. His decision to retire is based on medical opinion that he has not been able to reach 100 percent of the capabilities that made him an elite driver in NASCAR's top series.
"I want to thank the fans, my family, friends, sponsors and team members — thanks to everyone who has taught me the different things around the motorsports world and also for those who have had to put up with me," said Busch, who has matured dramatically from the mercurial driver who turned heads with his race craft as a 22-year-old in 2001.
"It's time for a new journey, and I'm excited to get it started."
He plans to continue in a consulting role with 23XI Racing, co-owned by fellow driver Denny Hamlin and NBA superstar Michael Jordan. Busch drove the No. 45 Toyota for 23XI until the accident at Pocono kept him out of the car.
Busch won the first NASCAR Playoff — then called the Chase — in 2004, under a system where the championship went to the driver who accumulated the most points during a 10-race postseason.
Driving for Jack Roush, Busch secured the title by finishing fifth in the season finale at Homestead-Miami Speedway despite a broken wheel that separated from his No. 97 Ford early in the race. All told, the 45-year-old Las Vegas native won 34 NASCAR Cup Series races, including the 2017 Daytona 500, in a career that spanned 23 seasons.
He and brother Kyle Busch have combined for 97 Cup victories as the most prolific sibling combination in the history of the sport. Kyle attended his brother's Saturday news conference, along with 23XI Racing drivers Bubba Wallace and Tyler Reddick and NASCAR luminaries Ben Kennedy, Mike Helton and Steve O'Donnell, among many others.
Though Busch is retiring from NASCAR Cup competition, he said he wants to recover to the point where he can pursue other forms of racing.
"My body is just having a battle with Father Time," Busch said. "I've had arthritis ever since I can remember. My gout has flared up so much that I can barely walk on some days. I'm just pushing to get through physical therapy and continue the workouts...
"I'm 45 years old, I'm happy, complacent and there's nothing that I look back on and regret about having this opportunity at the top level of NASCAR."
Busch left the media center to a round of applause and a series of hugs, the last reserved for his brother.
—By Reid Spencer, NASCAR Wire Service. Special to Field Level Media