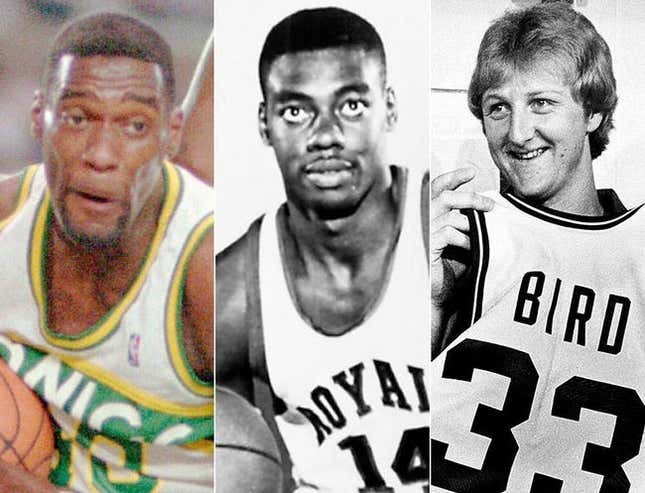 Seattle SuperSonics icon Shawn Kemp was released from jail on Thursday, one day after being arrested in connection with a shooting in a mall parking lot, Pierce County Jail records show.
Is Texas or Florida State a bigger national title contender? | Agree to Disagree
Kemp, 53, was booked into the jail in Tacoma, Wash., on Wednesday evening on a felony charge.
A spokesperson for the Pierce County Prosecutor's Office told ESPN that no charges were immediately fired against Kemp and that he was released pending further investigation.
Scott Boatman, an attorney for Kemp, said Thursday that the former six-time All-Star expects to be exonerated of all charges.
"Late Tuesday evening, Shawn Kemp's vehicle was broken into and numerous items were stolen, including an iPhone," Boatman said in a statement. "On Thursday, Mr. Kemp tracked his iPhone to an occupied vehicle in a shopping mall parking lot in Tacoma.
"When Mr. Kemp approached the vehicle in an attempt to retrieve his stolen property, individuals inside the vehicle shot at Mr. Kemp, who then returned fire in self-defense. This was not a drive by shooting as previously reported and Mr. Kemp's actions were reasonable and legally justified."
Boatman said Kemp met with law enforcement at the scene. Nobody was injured.
Drafted by Seattle out of Trinity Valley Community College in Texas with the 17th overall pick in 1989, Kemp played the first eight of his 14 career NBA seasons for the SuperSonics. He was an All-Star six straight seasons from 1992-98 -- the last of those with the Cleveland Cavaliers -- and three times made the All-NBA second team.
Known for his ability to fly high above the rim and throw down thunderous dunks, Kemp averaged 14.6 points over his career (16.2 with Seattle). He also averaged 8.4 rebounds, 9.6 with the Sonics, and finished among the NBA's top 10 rebounders on three occasions.
After playing in Seattle, Kemp spent three seasons with the Cleveland Cavaliers, two with the Portland Trail Blazers and one with the Orlando Magic, in his final season in 2002-03.
--Field Level Media