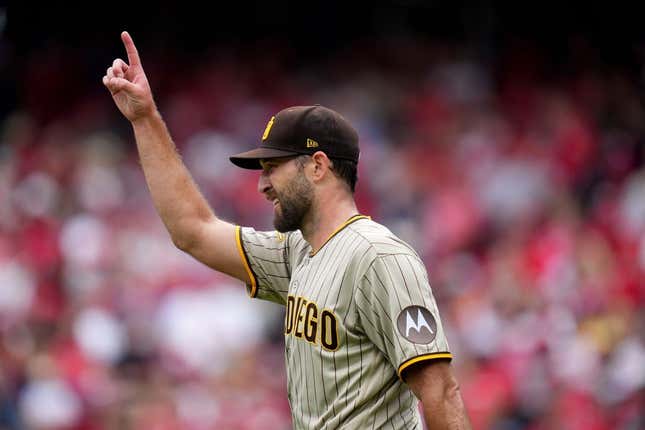 Polar opposites in how to build a baseball team will be on the same field as the Baltimore Orioles continue their three-game series with the host San Diego Padres on Tuesday.
How running an NFL team is like running a restaurant | Chef Emeril Lagasse
The Padres have invested heavily in free agents and traded away many top prospects to accumulate talent. They reached the playoffs in two of the past three seasons, but now they are seven games under .500 and fading from the NL wild-card picture as one of the biggest disappointments of the 2023 season.
San Diego had just one homegrown player from their farm system in the lineup on Monday, catcher Luis Campusano.
The Orioles have rebuilt through the draft while culling talent from the waiver wire. They own the American League's best record despite playing in the very competitive AL East. In amassing that talent, however, they have posted just one winning season in the past six and haven't been to the postseason since 2016.
Four of Baltimore's first-round draft picks were on the field Monday — catcher Adley Rutschman (2019), designated hitter Ryan Mountcastle (2015), second baseman Jordan Westburg (2020) and starting pitcher Grayson Rodriguez (2018). Two other draft picks were in the starting lineup along with a Rule 5 draft pick, one player signed off the waiver wire, a purchase, and another player released by his previous team.
Shortstop Gunnar Henderson, who hit a three-run double in Baltimore's 4-1 win on Monday, is 22. Rodriguez is 23. Westburg is 24. Rutschman is 25.
"We have young, homegrown players who grew up in our system who are gaining confidence with every game," Orioles manager Brandon Hyde said recently. "The development has been exciting."
The Padres can't boast the same excitement level as the Orioles, but they have scored 10 or more runs 12 times. Conversely, they have been shut out 10 times.
San Diego scored 10 runs at Arizona on Friday, but it scored a total of six runs in the five other games among its past six — all losses. Twice the Padres were shut out in that span.
"We're in a place now where it's more about us," San Diego manager Bob Melvin said Monday. "We don't worry about the opponent right now. It's how we play. We've played some or our best games against the best teams. Other times ... if I knew for sure why that is, we'd try to take care of that.
"We're looking for that game that would get us on a roll."
On Tuesday night, former St. Louis Cardinals teammates will oppose each other in a matchup of right-handers when Michael Wacha (8-2, 2.84 ERA) starts for the Padres against the Orioles' Jack Flaherty (8-7, 4.33).
Wacha was the National League Pitcher of the Month for May when he posted a 3-0 record with a 0.84 ERA and a .147 opponents' batting average in five starts. His success continued in June, but he has made only one start since June 19 and has been on the injured list since July 2 due to shoulder inflammation.
The Padres, who are also without staff ace Joe Musgrove (shoulder) desperately need Wacha to flash his May-June form. Wacha is 2-1 lifetime against the Orioles with a 5.87 ERA in nine starts — including a 2-0 record and a 5.40 in three starts last year while a member of the Boston Red Sox.
Flaherty came to the Orioles from St. Louis on Aug. 1 in a trade for three minor-leaguers. The 27-year-old is 1-1 with a 3.27 ERA through his first two starts for Baltimore.
Flaherty is 2-0 in four career starts against the Padres with a 2.01 ERA and a .207 opponents' batting average.
—Field Level Media