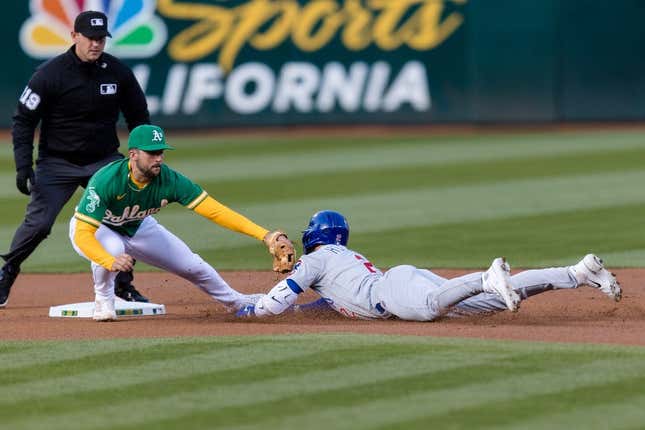 Marcus Stroman threw six innings of shutout ball, Patrick Wisdom doubled in the middle of a four-run eighth inning and the Chicago Cubs won a pitchers' duel from the host Oakland Athletics 4-0 in an interleague game Tuesday night
Are the Oakland A's a failed state? | Agree to Disagree
Cody Bellinger and Nick Madrigal had RBI singles in the eighth-inning uprising, which began after Stroman and A's left-hander Ken Waldichuk had done most of the heavy lifting in a scoreless tie.
Trevor May (2-3), the A's fourth pitcher, set the stage for the Cubs' scoring by walking the first man he faced, Seiya Suzuki. Wisdom doubled to put runners at second and third before Bellinger opened the scoring with his single
Wisdom scored to make it 2-0 on Yan Gomes' infield out, after which Richard Lovelady replaced May and served up Madrigal's run-scoring hit. A fourth run scored when A's right fielder Conner Capel dropped Nick Hoerner's flyball.
Mark Leiter Jr. (1-0), the Cubs' second pitcher, was awarded the win after pitching a scoreless seventh. Michael Fulmer and Michael Rucker went three outs apiece to complete Chicago's third shutout of the season
The A's finished with just two hits, both off Stroman, who gave up a double to Capel, one other single and two walks in his six innings. He struck out five.
The six-inning, no-run effort was the right-hander's third of the season. He's allowed just two runs in 24 innings.
Waldichuk was almost as good, throwing five shutout innings in which he allowed five hits, including a Hoerner double, and three walks. He struck out five.
The rookie had been bombed for 17 runs in just 15 innings in his first three starts of the season.
Suzuki went 2-for-2 with three walks for the Cubs, who clinched a winning trip with a fourth win in the first five contests of the six-game trip. Chicago totaled eight hits
The loss was the A's sixth straight overall and fifth in a row to start a six-game homestand that ends with an afternoon affair against the Cubs on Wednesday
--Field Level Media