Here is an almost three minute long clip from this afternoon's Mets-Braves game. The scene: bottom of the fifth, one out, one on (Martin Prado on first), Jason Heyward at the plate. Heyward lines a 1-0 pitch to left and then, well, who the hell knows what happened.
Here's a best guess. Someone initially called Heyward out on the liner and Prado, who at this point had made it past second base, had to retreat back to first. Only someone else had called Heyward safe and ruled the play a trap. This left Prado marooned between first and second, and tagged out by Ike Davis.
As you watch the clip, you'll notice that FOX never once updates you on what is happening on the field. "They called it right," "they're going to rectify the situation" and a cheering crowd is all we get. There is no trusty diamond graphic in the top right with lit up bases. No little dots signaling how many outs in the inning. Not even a shot of who is on the bases. The only thing on the screen is the umpires and a yelling Terry Collins. Then all of sudden Terry Collins is tossed. So, bad news Mets, we can safely assume.
But to this point, we don't really know why. Most likely, the umps realized they screwed up the line out/trap call and also realized that they screwed an otherwise safe base-runner out of second base. So they gave him second base. Terry Collins, who just went from being out of the inning to having two men on and still one out, is incensed. So they toss him. Aside from the initial fuck-up, this is really the most egregious fuck-up of the whole thing. Realize that in the process of un-screwing the Braves you just screwed the Mets and relax the trigger finger.
SNY's Chris Carlin was able to supply a bit more than FOX on this one and tweeted the following:
#Mets If you were curious, here's why Prado was safe, even though Ike tagged him: Rule 9.02 (c) If the umpires consult after a play and change a call that had
been made, then they have the authority to take all steps that they may deem
necessary, in their discretion, to eliminate the results and consequences of the earlier
call that they are reversing, including placing runners where they think those
runners would have been after the play, had the ultimate call been made as the
initial call,
G/O Media may get a commission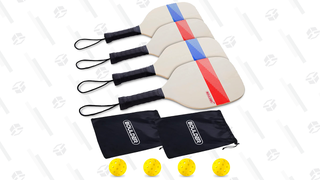 It's Pickleball
Pickleball Sets
So there's basically the umpire's get out of jail free card. The only problem is, it presupposes something that, until recently, almost never happens: umpires conferring and changing a call.
[FOX, Twitter]