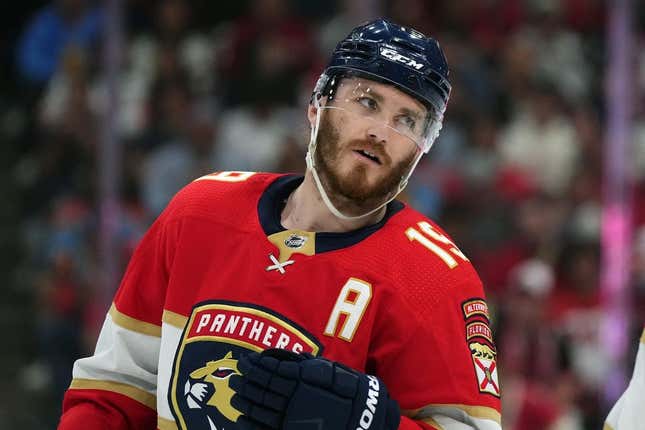 The upper-body injury that kept Florida Panthers star Matthew Tkachuk out of Tuesday night's Stanley Cup finale in Las Vegas is a fractured sternum
How running an NFL team is like running a restaurant | Chef Emeril Lagasse
The 25-year-old forward sustained the injury in Game 3, powered through it in Game 4 but was not available for Game 5 as the Panthers finished the best-of-seven series with a 9-3 loss to the Vegas Golden Knights
Florida coach Paul Maurice provided the update following Tuesday night's season-ending loss.
"He'll heal fine from it," Maurice said. "He got into the next game because he is so smart and can find a way around the ice. I think he had three of our best chances in that game when he couldn't do things he could do to finish. ...
"The next day (after Game 4) when he came in, he was in significant pain. So, there wasn't really a question of whether he would be able to play or not. The idea was if we let it calm, maybe we could get him to Game 7."
Tkachuk, who recorded a team-leading 24 points (11 goals, 13 assists) in 20 playoff games, likely sustained the injury on a big hit by Vegas forward Keegan Kolesar in Game 3.
A fractured sternum, or breastbone, typically takes eight to 12 weeks to heal, usually without surgery.
Tkachuk posted career-high totals in assists (69) and points (109) in his first season with Florida after he was acquired in an offseason trade that sent Jonathan Huberdeau to the Calgary Flames.
Tkachuk has 491 points (192 goals, 299 assists) in 510 career games with the Panthers and Flames, who drafted him with the No. 6 overall pick in 2016
--Field Level Media