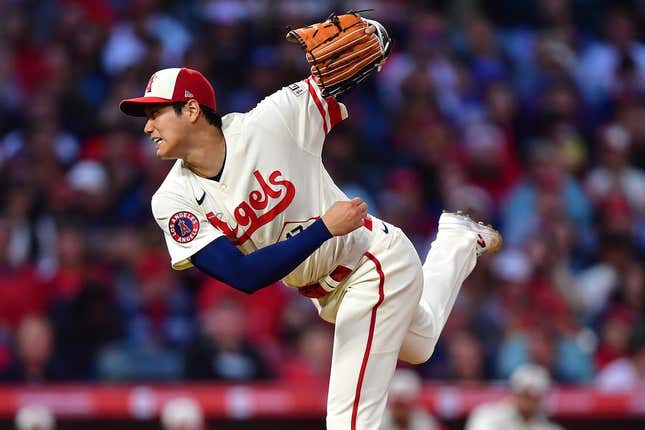 Framber Valdez went eight strong innings and Martin Maldonado hit a two-run home run against his former team as the visiting Houston Astros earned a 3-1 victory over the Los Angeles Angels in Anaheim, Calif., on Tuesday, handing Shohei Ohtani his first loss of the season in the process
Are the Oakland A's a failed state? | Agree to Disagree
Valdez (3-4) gave up one run on three hits over 99 pitches with no walks and 12 strikeouts to end a two-start losing streak. Valdez was one off his record for strikeouts in a game, set last season against the Angels, as Houston ended its three-game overall losing streak
Houston closer Ryan Pressly struck out Ohtani and Anthony Rendon to open the bottom of the ninth and got Hunter Renfroe on a line drive to Jeremy Pena at shortstop to end the game and earn his fifth save.
Ohtani (4-1) gave up three runs on six hits over seven innings with two walks and seven strikeouts for the Angels as he took the loss for the first time since his final start of the 2022 season
Ohtani's strikeout of Pena in the second inning was the Japanese star's 502nd career whiff on the mound. With Babe Ruth's career strikeout total at 501 -- according MLB's official statistics -- Ohtani now is the all-time leader in strikeouts by a player with at least 100 career home runs.
Los Angeles rookie Zach Neto hit his first career home run, with the only other hits against Valdez coming on singles from Mike Trout and Gio Urshela.
The Angels broke through first in the early pitchers' duel when Neto connected against Valdez in the third inning with a drive to the opposite field in right-center. The home run came in Neto's 23rd career game
The Astros got to Ohtani for three runs in the fifth inning to take the lead for good. Jake Meyers walked with one out and Maldonado hit a home run into the bullpen in left field, his second of the season. Yordan Alvarez added an RBI single after hits from Mauricio Dubon and Alex Bregman
Dubon left in the fifth inning with left hamstring discomfort.
--Field Level Media