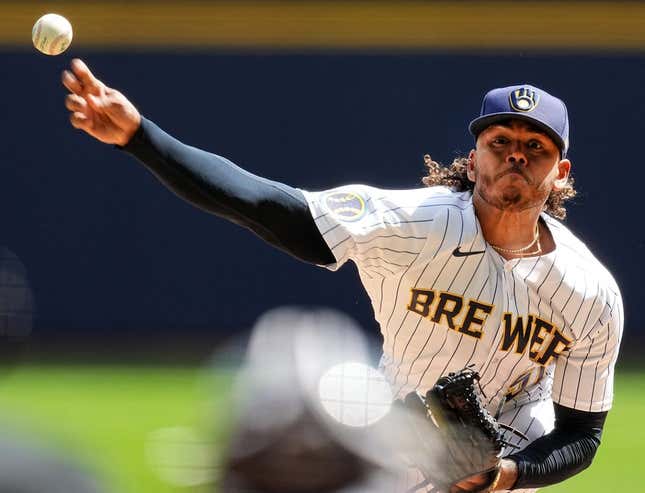 The Milwaukee Brewers will be looking for right-hander Freddy Peralta to regain his early form and help them avoid a sweep when they host the Detroit Tigers on Wednesday afternoon in the finale of a three-game series at American Family Field
Chris Paul should ride the bench next season | Keep it a Buck(et)
Peralta (2-2, 3.97 ERA) will be opposed by right-hander Michael Lorenzen (0-0, 6.00).
The Tigers have scored four runs in winning each of the first two games, hanging on for a 4-3 victory Tuesday night. Kerry Carpenter hit a three-run home run as Detroit scored all four of its runs in the second inning off Eric Lauer
Lauer needed 85 pitches to get through three innings, allowing four runs on eight hits, but was pulled as a precautionary measure due to a torn fingernail on his throwing hand. Lauer said he did not expect to miss his next start.
Getting good outings from its starters has been key for Milwaukee, which is 13-1 when scoring at least four runs but 2-8 when scoring three or fewer.
Peralta is looking back to bounce back after a pair of subpar starts. Peralta began the season 2-0 with a 0.75 ERA in his first two starts, allowing just one run in 12 innings, but is 0-2 with a 7.59 ERA in his last two starts, giving up nine runs in 10 2/3 innings.
"I feel great, and that's the most important thing for me," Peralta said after giving up four runs on five hits in 5 2/3 innings in his last start. "But we want to win, too. The last two games I haven't been able to put the team in a position to win the game."
Peralta has one career start against the Tigers. He tossed six scoreless innings in a 1-0, 11-inning loss at Detroit in 2021
Lorenzen will be making his third start since coming off the injured list on April 15. He allowed three hits over five scoreless innings in his last outing but did not get the decision in a 2-1 loss at Baltimore on Friday. In his first start, Lorenzen was tagged for six runs on eight hits in four innings against the Giants. He got a no-decision in that one as well, as Detroit rallied to win in 11 innings.
"It was good," Lorenzen said after his last start. "I simplified my attack with these guys, more so than last start. It felt like I attacked the zone pretty good and I had some good defensive plays behind me to make some innings efficient with some double-play balls."
Lorenzen is 1-3 with a 5.25 ERA in 34 career appearances vs. Milwaukee, including four starts. He is 0-1 with a 5.50 ERA in 18 games at American Family Field but has not allowed a homer there in 18 innings.
Javy Baez extended his hitting streak to 10 games with a double in the second Tuesday night and also singled. Baez went 4-for-40 in the first 11 games, but over the last 10 games is batting .378 (14-for-37) with four doubles and seven RBIs, along with three walks.
--Field Level Media