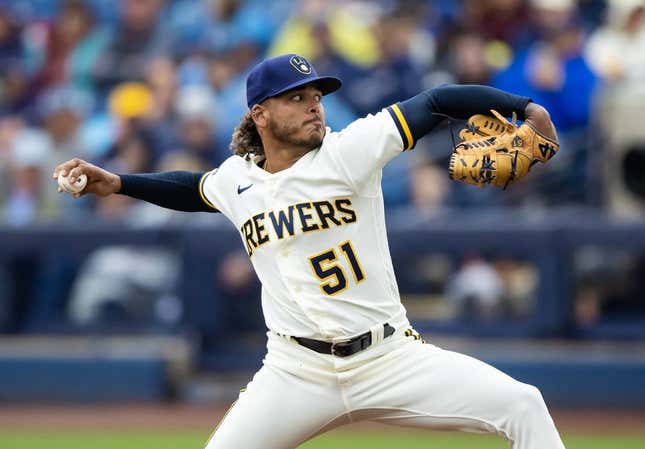 Right-hander Freddy Peralta will be looking to put an injury-plagued campaign behind him when he gets the starting nod for the Milwaukee Brewers in their home opener against the New York Mets on Monday
Air Jordans are more American than McDonald's French fries | Deon Cole's Ultimate Sports Fantasy
Right-hander Carlos Carrasco (15-7, 3.97 ERA in 2022) also makes his season debut for the Mets, who took three of the four games in their season-opening series at Miami
New York topped the Marlins 5-1 on Sunday behind Kodai Senga, who struck out eight in 5 1/3 innings in his highly-anticipated major league debut. Tommy Pham drove in three runs with a two-run homer and a double.
After struggling offensively in its first two games, Milwaukee combined 13 hits and six walks for a 9-5 win over the Cubs in the rubber match of the opening three-game series.
Rookie Brice Turang reached four times with two hits and a pair of walks. He is 3-for-7 in his first three games.
"He obviously had a great offensive day (Sunday), on base four times, but I thought the stuff he did on defense and on the bases was just as impressive," Brewers manager Craig Counsell said
Peralta was 4-4 with a 3.58 ERA in 18 games, including 17 starts, last season, after going 10-5 as an All-Star in 2021. He missed more than two months with a right shoulder strain in 2022. Peralta returned for seven starts before going back on the injured list in early September with shoulder fatigue.
In four spring training games, Peralta allowed five runs in 14 innings, striking out 17 and walking three. In his final spring start, he pitched 4 2/3 scoreless innings, giving up four hits with five strikeouts and one walk.
"You can see the difference this year compared to last year," Brewers catcher Victor Caratini told the Milwaukee Journal Sentinel near the end of spring training. "Last year he battled a lot with the shoulder, but this year he looks really good. The way his pitches are moving, especially the slider and the curveball, it's the way they're supposed to move.
Peralta has faced the Mets once, allowing four runs on five hits in 5 1/3 innings in an 8-4 win at Milwaukee in September 2021
After being blanked by Chicago in the first game of the series, the Brewers' scoreless streak extended to 16 innings before a three-run rally in the eighth inning led to a 3-1 victory in the second game. Milwaukee has not homered this season
Carrasco posted a 4.15 ERA in 13 innings in four spring training starts, striking out 14 and walking two.
Carrasco is 2-1 with a 3.60 ERA in five career starts versus Milwaukee, including 1-1 with a 5.29 ERA in three starts at American Family Field, where he has allowed just one homer in 17 innings.
"We played four games here and got all our pitchers on the mound, with the exception of Carrasco," Mets manager Buck Showalter said. "Everybody's presented himself well, but we'll have a big challenge there in Milwaukee.
--Field Level Media