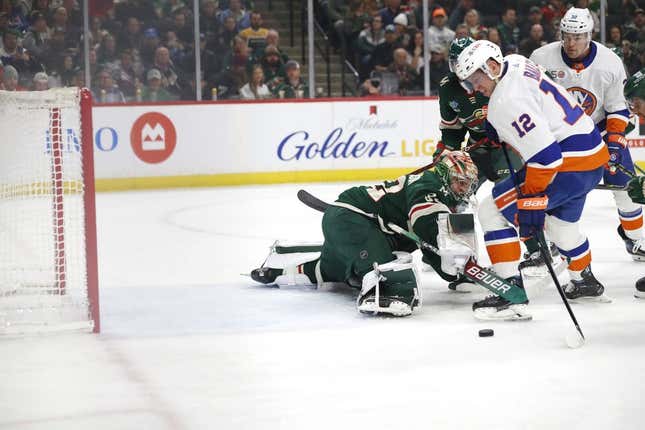 Frederick Gaudreau scored the only goal in a shootout Tuesday night for the Minnesota Wild, who remained hot by edging the New York Islanders 2-1 in Saint Paul, Minn.
Wild goalie Filip Gustavsson and Islanders goalie Ilya Sorokin turned back the first four shots of the shootout before Gaudreau deked several times and fired a shot that glanced off Sorokin's glove and trickled into the right corner of the net.
Gustavsson stopped Kyle Palmieri to lock up the win for the Wild, who are 7-3 in games determined in the shootout this season.
Gustavsson made 39 saves in regulation and overtime and Ryan Reaves scored in the first as the Wild won for the sixth time in seven games (6-1-0). Minnesota (74 points) moved one point ahead of the idle Colorado Avalanche and within one point of the first-place Dallas Stars in the Central Division.
Josh Bailey scored in the first for the Islanders, who lead the Eastern Conference wild-card race with 70 points. New York moved four points ahead of the Buffalo Sabres -- who sit third in the wild-card standings -- by virtue of the Sabres' 5-3 loss to the Columbus Blue Jackets.
Sorokin recorded 30 saves.
Reaves and Ross Johnston fought 2:06 into the first before they showed off their offensive skills as the teams traded goals in a span of 3:45 late in the period.
Otto Koivula swooped into the slot before Calen Addison slid in front of him to cut off a potential shooting lane. Koivula then skated around the net and passed to Scott Mayfield at the blue line. With Johnston serving as a screen in front of Gustavsson, Mayfield fired a shot that glanced off Gustavsson and skittered off the skate of Bailey, who collected the puck and tucked home the rebound as Jon Merrill crashed into him with 5:45 left.
A turnover deep in the Islanders' zone by Noah Dobson led to Reaves' first goal of the season with two minutes left. Reaves picked off a no-look backhand pass by Dobson and dished a drop pass to Jordan Greenway, whose shot bounced off the chest of Sorokin. Reaves bore in on Sorokin and batted the puck under Sorokin's armpit.
--Field Level Media