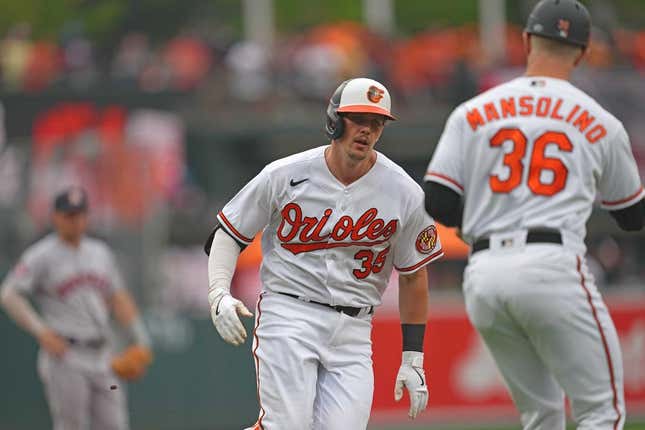 Broadcaster Kevin Brown was set to return to the booth for the Baltimore Orioles on Friday, The Athletic reported, and he insisted to legions of supporters that the team-levied suspension is in the past
How running an NFL team is like running a restaurant | Chef Emeril Lagasse
"O's fans - I'm a storyteller. And never want to be a part of the story. The most compelling story in baseball right now is the story of the league-leading Baltimore Orioles - the best, most exciting young team in the American League," Brown wrote via Twitter
"Unfortunately, recent media reports have mischaracterized my relationship with my adopted hometown Orioles. The fact is that I have a wonderful relationship with the organization, and our ownership and front office has fully supported me since 2019 when I first came aboard. I ask that everyone disregard the distracting noise of the past few days. I have worked closely with O's SVP Greg Bader for the past four years, and John Angelos and I have a solid dialogue based on mutual respect. We are all good here in Birdland! I am proud to be an Oriole and call Baltimore home, and there is no place in baseball I'd rather be now and for the long haul. Go O's!
The Athletic and ESPN reported the ban came directly from the controlling owners of the Orioles, namely John Angelos
Brown last worked a broadcast on July 26. In his absence, professional peers and fans were vocal in their support of Brown, including "Free Kevin Brown!" chants during the just-completed three-game series with the Houston Astros
NFL Network's Rich Eisen, Dan Patrick and New York Yankees' Michael Kay were among the well-known broadcasters who rushed to Brown's defense
"If it is true, and I'm going to choose to believe it's true, (Orioles ownership) should be ashamed of themselves," Kay said. "If John Angelos, the owner of the Orioles, didn't like that, then he's thin-skinned, he's unreasonable and he should actually get a call from Rob Manfred.
The Orioles didn't confirm widely reported details of the reprimand of Brown, who shared fact-based statistics during a pregame segment and was removed from broadcasts on the Mid-Atlantic Sports Network. He was commenting specifically about the Orioles' recent woes against the Tampa Bay Rays
Prior to the Orioles' game against Tampa Bay on July 23, Brown spoke over a graphic on a MASN broadcast that compared Baltimore's win total at Tropicana Field from 2020-22 to its win total this season. The Orioles had only won three games in St. Petersburg, Fla., over the past three years, but already matched that mark in 2023. The graphic also stated that Baltimore had been 0-15-1 in its last 16 series at Tropicana Field
Some of the information was also in the team-provided game notes from July 23
--Field Level Medi