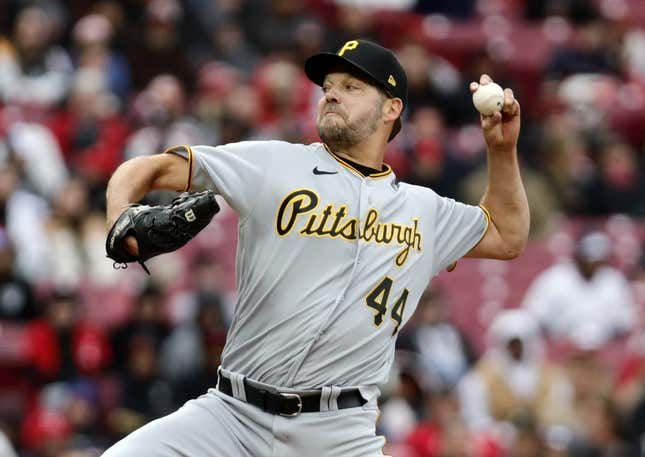 Things have not been upbeat all that often in recent years for the Pittsburgh Pirates, but the run-up to their home opener Friday against the Chicago White Sox should be an exception
Aaron Rodgers should go full Joe Namath | Comedian Bert Kreischer
Pittsburgh is coming off a three-game road sweep of the Boston Red Sox. In addition, the fans will be able to celebrate the return of former star and 2013 National League MVP Andrew McCutchen.
While McCutchen might not play every day at this stage of his career, Pirates manager Derek Shelton told flagship station 93.7 The Fan that McCutchen will be in the lineup Friday
And a more recent star outfielder, Bryan Reynolds, is thriving despite a contract extension impasse and trade request. He has four homers through six games.
Other than the questionable status of shortstop Oneil Cruz, who left Wednesday's game because of a facial injury he suffered sliding into a base, things are good with four wins in six games.
"They're playing confident," Shelton said.
Now the Pirates hope to continue to do well with a change of Sox
Chicago got walloped Thursday at home against San Francisco 16-6 to drop two of three in that series by a combined 31-16. The White Sox gave up 13 homers in the three games
Third baseman Yoan Moncada sat out Thursday's game after fouling a ball off his foot the previous game, but Chicago manager Pedro Grifol downplayed the situation as a rest.
"I trust the sports performance team, and if it's time for a day off, we're going to give him a day off," Grifol said.
In addition, Romy Gonzalez started in right field rather than Oscar Colas, but Grifol said Colas will start Friday because the Pirates are going with left-hander Rich Hill
In the series opener, Chicago right-hander Lucas Giolito (0-0, 3.60 ERA) is slated to oppose Hill (0-1, 5.40 ERA).
Giolito had a no-decision Saturday against Houston when he allowed two earned runs and five hits in five innings.
Giolito is a familiar, if not friendly, name for Pirates fans. Not so much because he is 1-0 with a 3.09 ERA and 28 strikeouts in four career starts against Pittsburgh, but because he tossed a no-hitter against them Aug. 25, 2020, with no walks and 13 strikeouts
Hill, a 43-year-old veteran in his 19th season and first with the Pirates, gave up three runs in five innings Saturday in a 6-2 loss at Cincinnati
What fans might remember most about Hill is the outing he had at PNC Park Aug. 23, 2017, when he was with the Dodgers.
Hill had a perfect game until, with one out in the ninth, there was an error behind him. He still had a no-hitter until Josh Harrison homered in the ninth to give Pittsburgh a 1-0 win.
Hill doesn't talk about that game much, but told the Pittsburgh Tribune-Review that "it's a great memory. That's the way baseball is. You can do everything right and still come out on the wrong side."
Now he's concentrating on Friday's game.
"It's obviously very special to be able to have a home opener," Hill said.
In 19 career appearances (five starts) against the White Sox, Hill is 0-3 with a 5.79 ERA
--Field Level Media