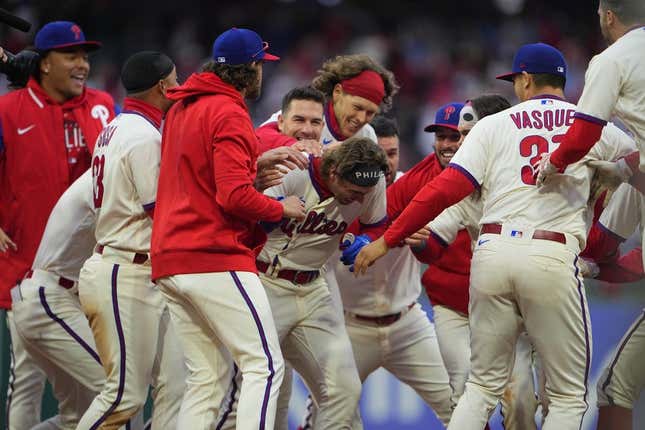 The Philadelphia Phillies will look to build off Saturday's dramatic come-from-behind win when they go for a three-game series sweep against the visiting Cincinnati Reds on Sunday
Aaron Rodgers should go full Joe Namath | Comedian Bert Kreischer
Bryson Stott had the first hit off Nick Lodolo, a one-out single in the third, before his game-winning walk-off single in the ninth Saturday in the Phillies' 3-2 victory
Philadelphia scored all three of its runs in the ninth inning, and Stott has hit safely in all eight Philadelphia games this season.
"We've done a lot of good things -- we've gotten a lot of hits but haven't necessarily scored, and we've pitched at times and this and that," Philadelphia's Trea Turner said. "We just have to put it all together. We played really well in all facets."
In 2022, the Phillies opened 4-8 and were 21-29 at the end of May. This year, they lost five of six to start the season before winning their last two against Cincinnati
"It's a little bit comforting, to us, knowing we went through something similar last year," the Phillies' J.T. Realmuto said. "It's not new to us. We know what this adversity is like.
"Once we sync up, I'm sure we're going to roll off a lot of 'W's," added Nick Castellanos. "All in all, I think when 162 is over, I'm pretty sure we'll be where we want to be."
The Reds made a change to their rotation before Saturday's game, announcing that right-hander Connor Overton would switch places with Graham Ashcraft, allowing Overton to face the Phillies in the series finale
Ashcraft will pitch on seven days' rest when he takes the mound Monday night in Atlanta. Reds manager David Bell said both pitchers are healthy, and the switch was made for strategic purposes only
Overton (0-0, 11.25 ERA) was roughed up in his first start last Monday, allowing five runs on eight hits, striking out five and walking one in four innings against the Chicago Cubs. The Reds rallied to win 7-6
Overton will make his second career appearance against the Phillies. He was tagged for four runs on two hits over 2 2/3 innings on Sept. 23, 2021, while with the Pirates
The Phillies will counter on Sunday with Taijuan Walker (0-1, 8.31). The 30-year-old right-hander was charged with four runs on four hits over 4 1/3 innings in an 8-1 road loss to the New York Yankees last Monday night. Walker is 2-1 with a 5.29 ERA lifetime against Cincinnati
Reds manager David Bell was back in the dugout Saturday for the loss. Bell, who missed his team's 5-2 defeat on Friday, flew back to Cincinnati on Thursday with neck and shoulder pain that kept him from getting sleep. He underwent a procedure to remove a cyst on a nerve in his shoulder
"There was probably like six days in a row where I didn't sleep more than an hour. I would get so tired I would just fall asleep through the pain," Bell said. "Now, it's all the way better."
With a sharp single to left in the first inning Saturday against Philadelphia starter Bailey Falter, the Reds' Tyler Stephenson extended his hitting streak to a career-high seven games. He has hit safely in every game this season
Bell indicated that pitchers Lucas Sims (back spasms) and Tony Santillan (lower-back stress fracture) are on schedule for a possible return by the end of April.
--Field Level Media