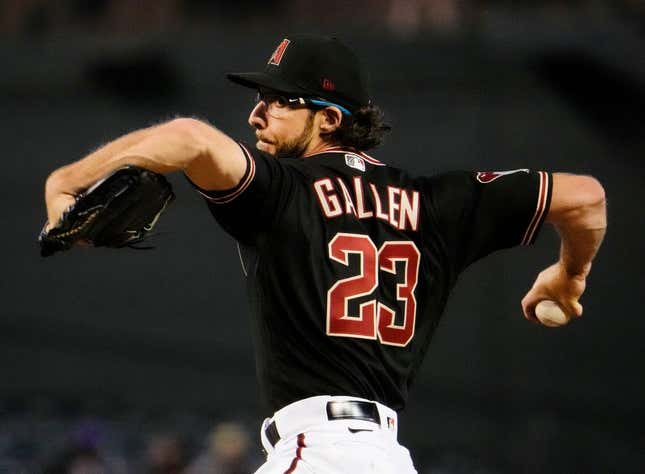 Arizona Diamondbacks starter Zac Gallen hasn't allowed a run in his previous four starts as he carries a 28-inning scoreless streak into his start against the Texas Rangers on Tuesday in Arlington, Texas
Bass' ERA stinks, but not compared to who he is off the mound | Worst of the Week Countdown
It won't be easy for Gallen to keep the streak alive, though. The Rangers are coming off one of the most impressive offensive performances of the season, routing the Yankees 15-2 on Sunday afternoon in Texas
The 15 runs were the most runs scored on the Yankees since the 2019 season.
As Rangers slugger Josh Jung said when asked about what the offense showed, "The potential we have every night. If we can do that day in and day out, that's like October baseball stuff.
How Gallen fares against the Rangers' offense is among the top storylines going into this two-game series between the teams at Globe Life Field
Another angle to keep an eye on is the status of D-backs standout outfielder Corbin Carroll (left knee). Carroll crashed into the left-field wall at Coors Field on Saturday and did not play Sunday. Carroll told reporters that he hoped he'd be sidelined for just a couple of days.
As far as Gallen, this will be his second start against the Rangers. He allowed three runs on six hits with eight strikeouts over 6 2/3 innings in a loss Sept. 7, 2021
The Rangers counter with right-hander Jon Gray, who is 5-7 with a 5.60 ERA over 18 career starts against the Diamondbacks. Gray allowed three runs over six innings in the Rangers' loss to the Cincinnati Reds on Wednesday
The Rangers were in the midst of what became a four-game losing streak during Gray's previous start, but things have turned for the better. The Rangers closed their series with the Yankees with three straight victories, including Sunday's rout
"It was important that we bounce back and show that we have that capability," Texas manager Bruce Bochy said.
Arizona has won four of its last six games. The D-backs had a disappointing 12-4 loss to end a series at the Colorado Rockies on Sunday, but they put together a solid April by going 16-13.
"These guys play hard," Arizona manager Torey Lovullo said after the series. "And I'm proud of what they did. They came in here and won a series. Like I said, there's no throwaway games. To get to where we have to get to we have to find a way to play better on a Sunday day game. We'll figure that out. But we won two out of three in a pretty uneven environment. It's always scary coming in here. So we want them to enjoy the off-day (Monday), and we're onward to Texas."
Texas and Arizona were both off Monday. Tuesday will mark the first meeting between the two since the 2021 season.
Arizona bench coach Jeff Banister will be in the visiting dugout at a Rangers game for the first time since he was fired as manager of the team late in the 2018 season. Banister went 325-313 over his four seasons with the Rangers (2015-18), managing the club when it played at its previous home across the street from Globe Life Field in what is now called Choctaw Stadium
--Field Level Media