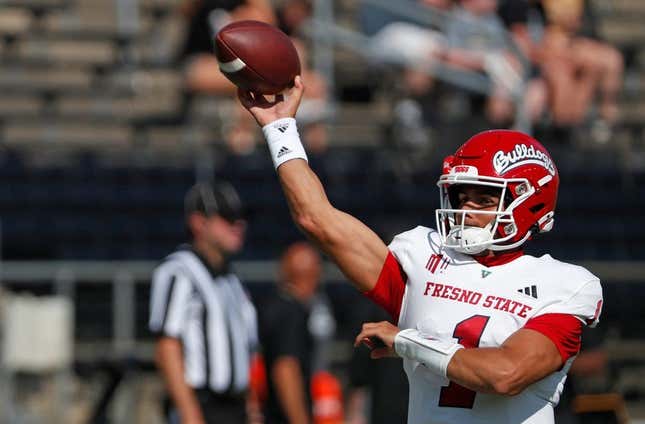 Beating two Power 5 opponents in the same season for the first time since 2018 is Fresno State's goal when it visits Arizona State on Saturday.
How running an NFL team is like running a restaurant | Chef Emeril Lagasse
The last time the Bulldogs pulled off the feat, the Sun Devils were one of their victims.
The Bulldogs defeated UCLA and Arizona State in 2018 and won their season opener at Purdue on Sept. 2.
Fresno State is also on an 11-game winning streak, the second longest in the nation behind Georgia (19 straight wins).
The Bulldogs (2-0) are coming off a double-overtime 34-31 victory over FCS opponent Eastern Washington at home.
Levelle Bailey came up with the game-winning interception in the second overtime to seal the victory.
Fresno State was a 30.5-point favorite entering the game.
"Give (Eastern Washington) a lot of credit. They did a lot of really good things and we didn't play our best," Fresno State coach Jeff Tedford said. "We were behind the sticks a lot, penalties and things like that put us in some tough situations. But this is a good wake-up call for us. It's tough to bounce back and come home (after winning at Purdue). I need to do a better job making sure we're ready to play."
Arizona State (1-1) is coming off a 27-15 loss at home against Oklahoma State.
The Sun Devils' offensive line was dealt another devastating blow with senior right tackle Emmit Bohle suffering a season-ending lower-leg injury in the first drive of the game.
Starting left tackle Isaia Glass and guard/center Cade Briggs did not play because of leg injuries.
Offensive lineman Ben Coleman has yet to play this season while recovering from a serious lower-leg injury suffered before preseason camp.
Tackle Aaron Frost is still recovering from an ACL injury suffered last August and has yet to play.
"Obviously that position has been decimated with injuries, unfortunately," Arizona State coach Kenny Dillingham said of his offensive line. "Some (injuries were by) contact, some non-contact, some running in the offseason.
"Emmit's going to be out for the season, unfortunate for him. What a great person. What a great worker."
—Field Level Media