A friend of the woman suing Derrick Rose and two of his friends testified on Thursday, saying that she thought Jane Doe seemed very intoxicated, and that they left after one of Rose's friends suddenly told her, "fuck talking, take off your clothes."* Her testimony came after that friend, Ryan Allen, finished his testimony, showing just how stark a difference there is between what Rose's legal team and the woman's legal team say happened that night.
Rose, Ryan Allen, and Randall Hampton are accused in the woman's civil lawsuit of gang-raping her inside her apartment when she was too under the influence to consent. Rose, Allen, and Hampton all say the sex was consensual.
Jessica "Kendra" Groff said that on that night in 2013, she knew that a car was going to pick her up and she was going to go hang out with her friend, Rose, and some of his friends. At first, she wasn't going to go because Doe had talked to her about a "sleepover," Groff said, and "that's just not what I was going over there for." But when Doe said it would just be drinks, she said OK. She said she was training to be a massage therapist at the time, and figured Rose might be a good connection.
When the car arrived, Groff testified, Doe was inside and drinking wine. She said the wine looked like it was in a plastic water bottle (Doe previously testified that it was a personal-sized bottle). Groff said Doe was already slurring her words, and told the jury, "I could tell she was a little intoxicated."
G/O Media may get a commission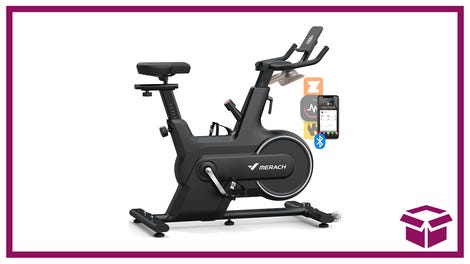 14% off + Coupon
Merach Indoor Cycling Bike
They went inside the Beverly Hills home where Rose and his friends were staying. The men didn't hang out with them at first, Groff said, as they had to finish playing a video game.
Later on, Groff testified, everyone was hanging out on the patio, drinking. Groff said she had a few shots, probably three, and that she only saw Doe take one shot. At some point, Rose went inside. He would come out, she Groff said, and then go back in his room.
Later, Groff said she saw Doe grabbing hot rocks from around the fire pit. "That's when I knew she was pretty intoxicated," Groff said, and told Doe to stop. It took a little bit of time for that to register with Doe, Groff said. When Doe did drop the rocks was when Groff realized she was "a little more intoxicated than I thought." She told Doe to put her hands in the pool to help with the burns.
Groff said she did not see Doe give Allen or Hampton lap dances, which both testified they received from Doe. She said she did not see Doe have sex with Hampton on a cabana bed or give Rose oral sex, which both men said happened.
During cross examination, Rose's lawyer, Mark Baute, emphasized the approximately three time Groff said in a previous declaration that she lost sight of Doe. Groff responded that even then Doe wasn't completely out of her sight because the house had so much glass.
Groff said she eventually did go inside to look for Doe and ended up knocking on Rose's bedroom door. She didn't go inside Rose's bedroom—it has a hallway that leads into it—and from there she made a little small talk with him.
Then Allen came in, Groff told the jury, and said: "Fuck talking, take off your clothes." She said her response was, "You don't talk to me like that," and then they started arguing because, she said, "You aren't going to talk to me like that."
Groff said she saw Doe and told her to grab her stuff because it was time to go. She said she made it clear she was only leaving if Doe came with her because "she was drunk and there were three guys and me." She added that Allen at one point told her, "Why don't you just fucking leave her then," but she wasn't leaving without her friend.
She told the men to call a taxi. The cab took Groff home first, and then Doe. Groff said she paid the cab in cash and made sure he had Doe's correct address before leaving.
"I was so upset, I was so mad that I had experienced what I experienced," she told the jury.
When he was questioning Groff, Baute raised his voice while asking about the cab, angrily asking, "You left your drunk friend alone with a male cab driver at midnight." Groff calmly replied: "Yes."
Baute also brought up many of the text messages between Doe and Rose, coordinating that night's events. Groff said that Doe didn't tell her about the "sex belt" or the massage oil she had brought. Groff said she had no intention of taking ecstasy, even though Doe sent Rose a text message saying her friend wanted the drug, and said that text message was a lie. Baute asked her about the text message Doe sent later that night to Rose, saying: "She was mad at me babe why u have me bring a bitch and u ain't fina fuck her." Groff answered, "I would be very surprised that she would say something like that." She later added that a sleepover "was not something I signed up for."
The lawyer for the other two men, Mike Monico, questioned Groff about the money Doe asked for in her lawsuit. He asked Groff if she was getting money for her testimony or had been offered money, and she said no. When asked if she deserved money, Groff said, "No, for what?" When Monico asked if she knew how much money Doe had asked for, Groff replied, "I want justice."
In other developments
Allen testified that he took a similar class to Rose as part of the NBA's summer league. Previously, Rose testified that at the NBA's rookie program he learned to always take his used condoms with him because, "You never know what women are up to nowadays."
Allen said Thursday that his class was one on "financials, dealing with women, and other things." But he said he didn't take his condom with him after having sex with Jane Doe because "I highly doubt anyone wanted my condom."
Judge Michael W. Fitzgerald warned Doe's attorneys that they are running out of time to present their case. Fitzgerald gave each side about 16 hours, and on Thursday he warned Doe's lawyers they only had a few hours left.