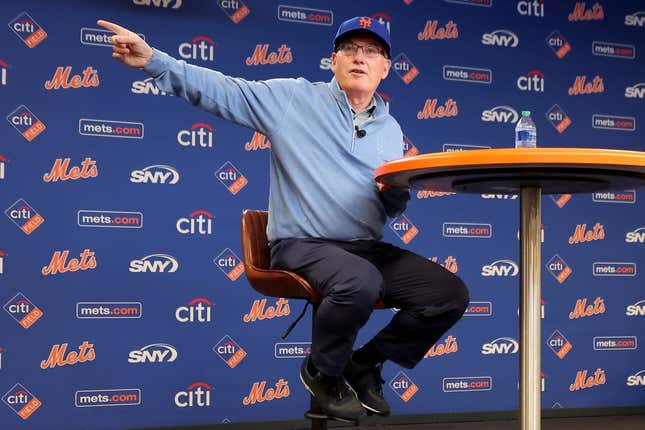 Mets owner Steve Cohen conducted a straight-from-the-tabloids press conference on Wednesday, vowing changes at every level of the operation unless New York claws into contention before the trade deadline
Is Texas or Florida State a bigger national title contender? | Agree to Disagree
For now, manager Buck Showalter and general manager Billy Eppler are not in danger of losing their jobs.
But Cohen made no assurances to players about changing addresses unless they "get their act together."
"All is not lost yet, but it's getting late," Cohen said Wednesday. "I'm preparing my management team for all possibilities. If they don't get better, we have decisions to make at the trade deadline. That's not my preferred end result. We're preparing all contingencies."
The MLB trade deadline is Aug. 1.
The Mets are paying nearly $100 million in luxury tax penalties and have a record payroll of $360 million. But at 36-43 and 8.5 games out of the final wild-card spot in the National League prior to Wednesday's game with the Milwaukee Brewers, Cohen decided it was time to share his thoughts
"It's been incredibly frustrating. I watch every game," Cohen said. "I see what's going on. Hopefully, we can right the ship. Listen, we have quality players. For some reason, we're not jelling."
First-place Atlanta improved to 53-27 on Wednesday. The Braves lead the Mets in the NL East by 16.5 games. Atlanta has the best winning percentage in baseball (.663)
Entering Wednesday, the Mets' team batting average was .240 (19th) and the team ERA of 4.56 was 25th
Big-ticket acquisition Justin Verlander (2-4, 4.11 ERA) signed a two-year, $86.66 million deal and could be one of the pieces Cohen moves at the trade deadline if the Mets are still sagging in the standings. Verlander, 40, fits the description Cohen shared when he said the Mets would be willing to absorb payroll losses to net better prospects in a trade. Left-hander Jose Quintana, currently on a rehab assignment recovering from a rib injury, would also fit that category
"A year older with a veteran team, probably not the place to be," Cohen said.
Eppler and Showalter said Tuesday they felt supported by ownership, and both insisted the Mets can be in the playoff picture by season's end. On Wednesday, Cohen said he remains intent on bringing aboard a top baseball executive who would ostensibly determine the fate of Showalter and Eppler
"I've been clear from Day 1 I'm still looking for a president of baseball operations," he said. "... Billy knows that. He's supportive."
Mets shortstop Francisco Lindor denied Showalter had "lost" the team
"He is our leader. He is the one who holds us accountable day in and day out the most. And he's the perfect guy to go through what we're going through right now. He has helped quiet the noise a lot," Lindor said.
Cohen said he wouldn't act impulsively and said "absolutely" when asked if his manager and GM would "definitively remain in their jobs" for the rest of the season.
--Field Level Media