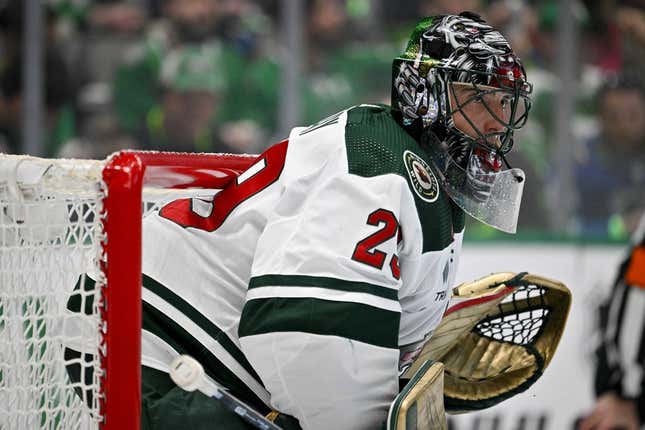 Minnesota Wild goalie Marc-Andre Fleury said Monday he wants to stay with the club next season and is willing to serve as a backup
Does Jimmy Butler have the best NBA Finals origin story? | Agree to Disagree
"I'm tired of moving. I'm not going anywhere," Fleury said, per The Athletic.
Fleury, 38, is under contract through next season for $3.5 million.
The veteran netminder opened the postseason as part of a tandem with Filip Gustavsson but didn't make another start after giving up seven goals in a Game 2 loss to the Dallas Stars.
"It's a fine line between winning and losing," Fleury said last week. "For me to have been done in the first round too many times, it's never easy. You always expect more from yourself or your team. The other team played well, too. They try to win, too, but it's still disappointing not to move on."
In his first full season with the Wild, Fleury went 24-16-14 with a .908 save percentage and a 2.85 goals-against average in the regular season
In 19 seasons with the Pittsburgh Penguins (2003-17), Vegas Golden Knights (2017-21), Chicago Blackhawks (2021-22) and Wild, Fleury is 544-315-91 in 985 games (828 starts) with a .913 save percentage and 2.58 GAA
Gustavsson, 24, acquired last summer in a trade with the Ottawa Senators, is a pending restricted free agent. He had a 22-9-7 record with a .931 save percentage and a 2.10 GAA in the regular season.
In other Wild news, defenseman Matthew Dumba said Monday he hopes to re-sign ahead of hitting unrestricted free agency on July 1
"I love Minny," he said. "My heart's in Minny."
Dumba, 28, had four goals and 14 points in 79 games with the Wild this season. He had two assists in six games in the series against the Stars
Selected seventh overall by the Wild in the 2012 draft, Dumba just completed a five-year, $30 million contract. In 10 seasons with Minnesota, he has 236 points (79 goals, 157 assists) in 598 games
--Field Level Media