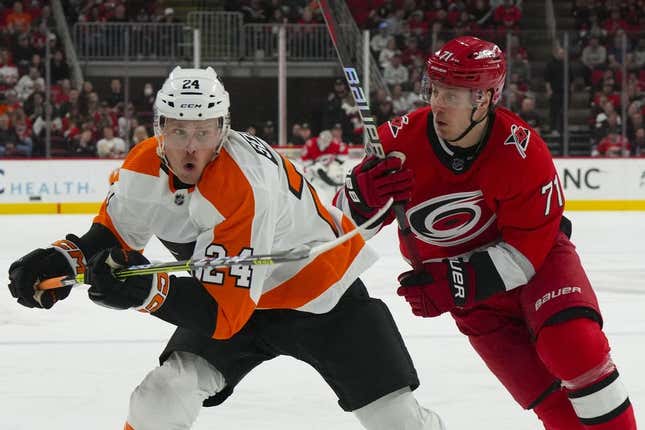 Pyotr Kochetkov returned from the minor leagues and made 19 saves as the Carolina Hurricanes defeated the Philadelphia Flyers 1-0 on Thursday night in Raleigh, N.C.
How running an NFL team is like running a restaurant | Chef Emeril Lagasse
Andrei Svechnikov scored slightly more than two minutes into the game and the tally held up for the Metropolitan Division-leading Hurricanes.
Kochetkov was in Carolina nets for the first time since Jan. 15 after he was summoned from the American Hockey League following an injury to Antti Raanta earlier this week.
Carolina has a four-game winning streak and has won nine of its last 11.
The Hurricanes have secured shutouts in three of their last four home games. The Flyers didn't have a power play until less than nine minutes to play in the game.
Kochetkov stopped Joel Farabee's breakaway in the second period after a Carolina defenseman fell to the ice in the neutral zone.
Philadelphia goalie Felix Sandstrom, who had appeared in just two Flyers games since Christmas, made 27 saves. His record dipped to 1-9-1.
The Flyers dropped to 1-5-1 in their last seven games.
Right winger Tyson Foerster, a 2020 first-round draft pick, made his NHL debut for the Flyers. Teammate Elliot Desnoyers was in his first game of the season.
Svechnikov opened the scoring on a power play 2:09 into the game. He waited in the slot and converted off Martin Necas' pass for his 23rd goal of the season.
The Hurricanes had three power plays in the first period, but just six total shots on goal. Only one of those shots came in an even-strength situation.
Carolina couldn't solve Sandstrom in the second period despite 15 shots. Another chance was thwarted when Svechnikov's rebound attempt into what looked like an open net was diverted by Foerster's block.
The Flyers were without defenseman Tony DeAngelo, who played last season for Carolina, because of a two-game NHL suspension handed out by the NHL following Tuesday night's spearing incident at Tampa Bay.
--Field Level Media