Earlier this evening, the Cincinnati Enquirer, a Gannett paper, posted excerpts from a transcript of Reds coach Bryan Price going off on reporters in a rant that included the word "fuck" 77 times. The report originally said that audio of the rant would be posted soon, but that promise was soon excised from the piece.
A little bit after 11:00 p.m. ET tonight, audio of the rant—with all of the curse words bleeped out—was instead posted on the website for the Louisville Courier-Journal, also a Gannett paper. It went up at this URL, but if you click that link now, it goes to a dead page. Somewhere around 20 to 30 minutes after going up, the Courier-Journal pulled down the page with the audio. You can listen to a censored portion of the audio that we were able to grab below:
And then an even stranger thing happened. Tweets that were sent from Courier-Journal accounts promoting the story were deleted, erasing evidence that the post had ever existed in the first place. Here are a few we managed to grab before they were deleted:
G/O Media may get a commission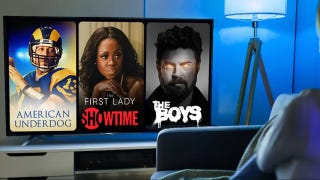 UNDER $1
99¢ Prime Video Channels
The final tweet, from a web producer at the Courier-Journal, is especially interesting. It seems that the audio came from the Enquirer—likely Reds beat writer C. Trent Rosencrans, who wrote the original story on Price's profane rant—but instead of being posted on the Enquirer website, it was given to sister paper Courier-Journal.
So why did the Enquirer give the audio to the Courier-Journal, why did the Courier-Journal post and then delete it, and why are Twitter accounts associated with the Courier-Journal trying to delete evidence that they ever posted the audio online?
We have reached out to both the Courier-Journal and the Enquirer, and will update this post if we get a response. If you know the answers to any of these questions, please get in touch at tips@deadspin.com. And if you have the uncensored audio of Price's rant, we will pay you cold hard cash for it.
Update: Carolyn Washburn, editor for the Cincinnati Enquirer, sent the following along:
We were digging into and working on the audio and so noted that on the top of the story.

But we – Trent, several editors and I — decided the transcript was enough and that we would not publish the audio.

The audio we were working on was in a shared-content management system and the CJ inadvertently picked it up. We didn't give it to anyone. We never posted it on Cincinnati.com. A few minutes after it appeared on the Louisville site, we alerted them that it was not for publication and they took it down immediately.

Nothing sinister here, Kevin. We just felt the transcript told the whole story. It is at Cincinnati.com. Everyone can see what he said (and I think probably everyone has by now!)
---
E-mail or gchat the author: kevin.draper@deadspin.com | PGP key + fingerprint | Photo via AP