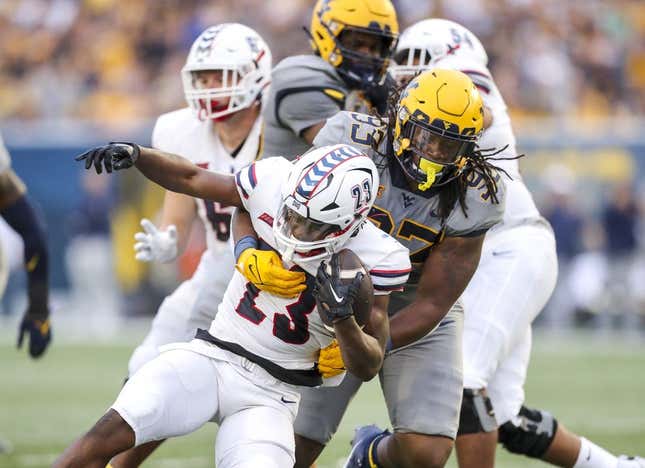 Garrett Greene needed only 10 completions to rack up 240 yards and four touchdowns as West Virginia outlasted Mother Nature and Duquesne in a 56-17 home win Saturday in Morgantown, W.V.
How running an NFL team is like running a restaurant | Chef Emeril Lagasse
Hudson Clement totaled five catches for 177 yards and three TDs for the Mountaineers (1-1), while Jahiem White had 110 yards and a touchdown on 12 rushing attempts for West Virginia.
Duquesne (1-1) allowed 619 yards of offense while mustering just 234 yards of its own. The Dukes only had three net rushing yards on 28 attempts, factoring in sacks of quarterback Darius Perrantes (14 of 31, 220 yards, two TDs, two INTs).
West Virginia, meanwhile, finished with 304 rushing yards and had 30 first downs to only 10 for its FCS counterpart.
The Mountaineers held a 14-10 advantage with 8:14 left in the second quarter when lightning forced a delay that lasted nearly two hours. When play resumed, West Virginia struck quickly with a 70-yard touchdown pass from Greene to Clement, who got behind the defense on a route down the right sideline.
Less than three minutes later, the Mountaineers extended their cushion to 28-10 as Greene found Clement for a 46-yard touchdown. Greene's fourth TD of the first half — a 22-yarder to Preston Fox — put the exclamation point on West Virginia's first-half eruption.
The teams then essentially skipped halftime, only pausing briefly before beginning the third quarter.
The first score of the second half came with 4:40 remaining in the third quarter, as White plunged into the end zone for a 19-yard TD. The Dukes answered on Perrantes' 16-yard scoring strike to Tedy Afful, but they wouldn't find the end zone again.
Nicco Marchiol registered a 1-yard TD run with 9:50 left in the game and DJ Oliver had a 5-yard scoring run with just over two minutes left to cap the scoring.
—Field Level Media