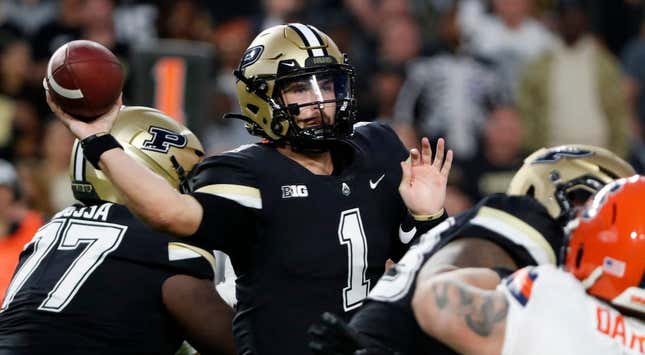 Garrett Shrader ran for 195 yards and four touchdowns as Syracuse notched a 35-20 road win over Purdue on Saturday night in West Lafayette, Ind.
How running an NFL team is like running a restaurant | Chef Emeril Lagasse
Shrader (14 of 28, 184 yards, INT) did the bulk of his damage on the ground for the Orange (3-0), setting a school record for rushing TDs by a quarterback. LeQuint Allen racked up 142 total yards and a score in a complementary effort.
Purdue (1-2) fumbled seven times (losing three), threw an interception and turned the ball over on downs three times, including once with five minutes left as Syracuse stuffed a run on third-and-short and broke up a pass on fourth down in a one-possession game.
Three plays later, Shrader was sprinting into the end zone from 28 yards out, sealing Purdue's fate.
The Boilermakers' Hudson Card finished 32 of 46 for 323 yards with a touchdown and an interception. Abdur-Rahmaan Yaseen caught 10 passes for 114 yards to pace Purdue.
Syracuse's defense set the tone early, stopping Purdue on fourth-and-1 from the 5 on the hosts' opening possession. The Orange then drove 94 yards, capped by Shrader's 3-yard run for a 7-0 edge.
The Boilermakers were back in Orange territory late in the first quarter until Marlowe Wax sacked Card, forcing a fumble that Terry Lockett recovered. Six plays later, Syracuse was back in the end zone as Shrader scored on a 35-yard run.
The Orange carried a 14-point lead into halftime, thanks to Allen's 2-yard run that gave them a 21-7 advantage at the break.
The Boilermakers began to chip away in the third quarter, getting within 21-14 on Card's 5-yard TD scramble with 4:28 left in the period. However, the Orange restored a two-touchdown advantage as Shrader scored his third TD of the game, this time on a 1-yard plunge on the first play of the fourth quarter.
Purdue kept fighting in the form of a 14-play drive that covered 75 yards, the final yard coming on Tyrone Tracy's touchdown run with 8:38 to play. However, Ben Freehill hooked the extra point attempt, leaving the Boilermakers with a 28-20 deficit.
—Field Level Media