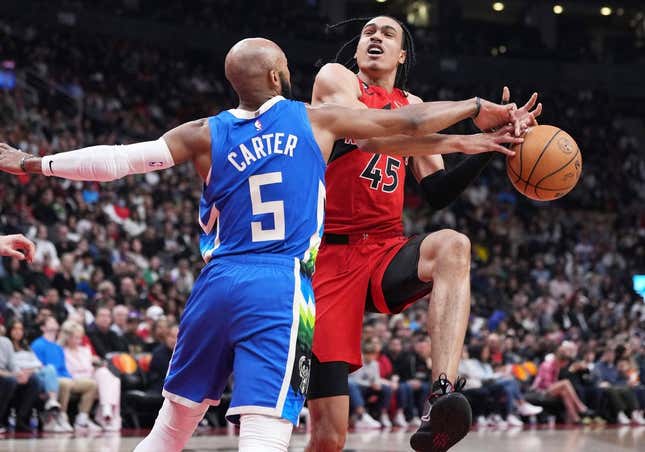 Gary Trent Jr. scored 23 points to lift the Toronto Raptors to a 121-105 victory over the visiting Milwaukee Bucks on Sunday afternoon in the regular-season finale for both teams
'Soccer fandom is full of gatekeepers' says Ted Lasso actor Brendan Hunt
Malachi Flynn added a season-best 20 points and Precious Achiuwa collected 14 points and 13 rebounds for the Raptors
The Bucks (58-24) won three of their four games against the Raptors (41-41)
Both teams were without several regulars. Milwaukee already had secured the top seed in the Eastern Conference, while Toronto resides in ninth place. The Raptors will be home to play the Chicago Bulls on Wednesday in a play-in tournament game
Will Barton scored 12 points for Toronto, while Dalano Banton added 11 and Chris Boucher and Ron Harper Jr. each had 10
Lindell Wigginton scored 17 points and Bobby Portis had 16 for the Bucks. Thanasis Antetokounmpo and Goran Dragic each scored 14 points, Jae Crowder added 13 and Meyers Leonard recorded 10 points and 12 rebounds
Toronto led by 16 points entering the fourth quarter.
Harper's layup and free throw increased the lead to 18 with 10:18 remaining. Flynn's layup stretched the advantage to 20 with 7:53 left in the fourth.
Toronto led 35-26 after one quarter.
The lead reached 17 on Boucher's put-back layup and free throw with 6:09 to play in the second quarter. Milwaukee answered with eight straight points. Trent's jumper bumped the lead to 11 with 2:15 remaining. Milwaukee cut the lead to seven before Toronto finished the first half with a 5-0 spurt to lead 67-55.
Trent had 20 points as Toronto shot 55.3 percent (26-for-47) from the field in the first half.
Portis had 14 points and the Bucks shot 47.7 percent (21-for-44) from the field in the first half
Achiuwa's dunk stretched the lead to 17 points with 7:16 to play in the third quarter. Boucher's dunk increased the margin to 19 with 4:49 remaining in the third. Toronto led 95-79 after three quarters.
Giannis Antetokounmpo (knee), Grayson Allen (ankle), Pat Connaughton, (ankle) AJ Green (foot), Jrue Holiday (rest), Brook Lopez (rest) and Khris Middleton (knee) did not play for Milwaukee.
Pascal Siakam (rest), Fred VanVleet (thumb) and O.G. Anunoby (ankle) did not play for Toronto.
--Field Level Media