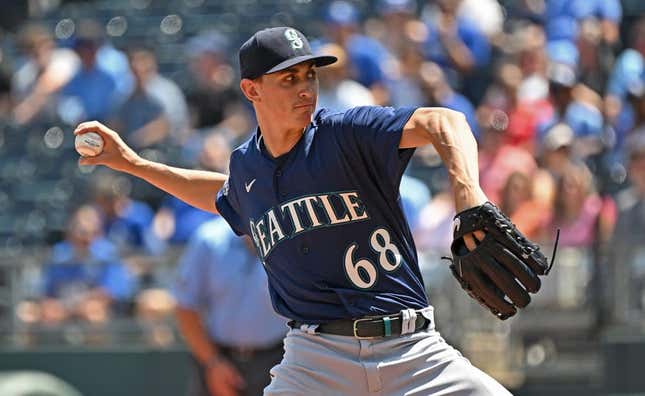 If there's a pitching mantra the Seattle Mariners have developed throughout their organization, it's this: Throw first-pitch strikes.
How running an NFL team is like running a restaurant | Chef Emeril Lagasse
Nobody exemplifies that more than right-hander George Kirby (10-8, 3.28 ERA), who is scheduled to start Tuesday night when the Mariners host the Oakland Athletics.
Kirby is tied for second in the major leagues by getting the first pitch in the strike zone 69.3 percent of the time. Only Texas' Max Scherzer (71.2 percent) is better.
As a staff, the Mariners are on record pace, with a 64.4 first-pitch strike percentage. According to FanGraphs, the Los Angeles Dodgers set the record of 64.2 percent in 2018.
"We're emphatic about it," Mariners manager Scott Servais said. "You've got to throw strike one. We talk about it all the time and we don't back off, which is a credit to our coaching staff. Those guys understand how we're built, what our foundation is, and when you put on our uniform you better adhere to it or get in line and understand it. Because that's all you're going to hear every day, and it works for us."
Rookie Bryan Woo threw 14 first-pitch strikes to the 20 batters he faced Monday as the Mariners beat Oakland 7-0 in the opener of the three-game series.
Woo went six innings, and J.P. Crawford and Julio Rodriguez homered for the American League West-leading Mariners, who have won four games in a row and 12 of their past 13.
The crowd of 37,434 was Seattle's largest for a Monday night since the team's 2017 home opener.
"Unbelievable," Rodriguez said. "I thought about that when I was in center field. I just looked around and I was like, 'Man, that's really cool, like on a Monday, people are showing out, showing the love and showing the energy. That'll something that we need. We're a pretty good baseball team. We are playing pretty good ball. That support, we always need that."
The A's, who have played in front of paltry crowds at home this season after announcing their intention to move to Las Vegas, certainly noticed Seattle's support.
"Tonight was an electric crowd, and our young guys got to experience it and see what winning and playoff baseball is about," said A's manager Mark Kotsay, whose team has lost three in a row and is the AL West cellar.
Kirby didn't get a decision in a 5-4 loss in 10 innings last Wednesday against the host Chicago White Sox. He gave up three runs on eight hits in 5 2/3 innings, with no walks and nine strikeouts.
Kirby is 2-0 with a 4.28 ERA in five previous starts against Oakland. He beat them 5-3 in Oakland on May 4 when he went seven innings and allowed three runs on seven hits.
The A's plan to send left-hander Ken Waldichuk (2-7, 6.05 ERA) to the mound on Tuesday.
Waldichuk hasn't registered a decision in his past four starts. On Thursday against the host White Sox, he allowed five runs on eight hits over five innings in a game the A's rallied to win 8-5.
Waldichuk is 0-1 with a 7.04 ERA in two career appearances against Seattle. He lasted just 2 2/3 innings in a 6-1 loss May 24 at T-Mobile Park as he allowed five runs on eight hits, with three walks and seven strikeouts.
—Field Level Media