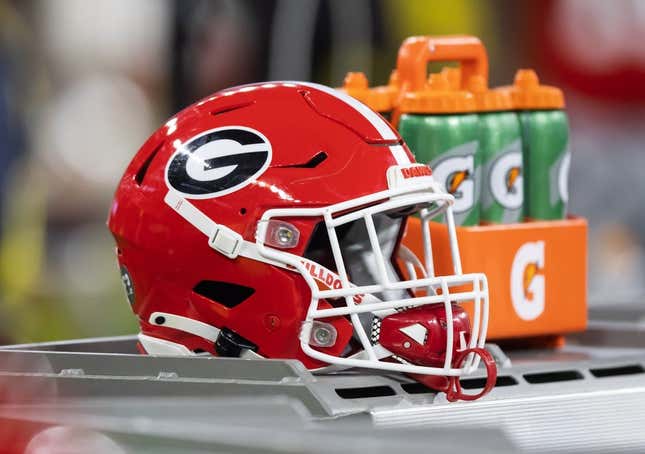 Victoria "Tory" Bowles, the former Georgia staffer who was injured but survived the fatal car accident that took the lives of two others in January, has reportedly been fired in what her attorney claims is "direct retaliation" for the lawsuit she filed last month against Georgia athletics and several others.
How running an NFL team is like running a restaurant | Chef Emeril Lagasse
Bowles was reportedly sent a termination notice Friday by UGA for refusing to be interrogated by the school and refusing to allow the school to access her personal phone, according to her attorney, Rob Buck.
The termination letter written by Georgia's associate athletic director of human resources, Amy Thomas, stated, "You are also required to cooperate in any investigation of potential NCAA rules violations," according to the Atlanta Journal-Constitution.
Buck accused the school of engaging in a "campaign of intimidation" against Bowles. Following the crash, Bowles was on paid medical leave — for her job that paid less than $12,000 a year — until March when the athletic association placed her on unpaid leave, per the Journal-Constitution.
"Tory, like all other perceived liabilities to the football program, became expendable to UGA, and despite her loyalty and meager salary, has been steamrolled," Buck said.
The school issued a statement Monday saying in part, "Applicable policies require university employees to cooperate with internal investigations.
"Over the course of several months, Ms. Bowles was asked — on numerous occasions — to speak with our investigators and provide information, and through her attorney, she repeatedly refused to cooperate. As a result, we were ultimately left with no choice but to terminate her employment."
According to her lawsuit, filed in Gwinnett County (Ga.) in July, Bowles likely suffered "permanent disability" in the Jan. 15 wreck that killed Bulldogs offensive lineman Devin Willock and recruiting staffer Chandler LeCroy, who was also named in her lawsuit.
Police say LeCroy, the driver, had a blood alcohol concentration of .197, nearly 2 1/2 times the Georgia limit, and the SUV was traveling 104 mph when it veered off the road and hit two power poles and several trees.
Bowles has incurred more than $170,000 in medical expenses since the wreck, per her attorneys.
"Tory is deeply saddened by the loss of Devin and Chandler," Buck said at the time of the lawsuit filing. "She greatly appreciates the continued prayers, love and support she is receiving during her difficult recovery. ... Tory is disappointed that the Association and its insurers have forced her to resort to litigation to address her life altering injuries."
Bowles was a recruiting analyst who was in the car driven by LeCroy and also occupied by Willock and then OL Warren McClendon hours after the victory parade celebrating Georgia's second straight national championship,
Bowles sued the UGA Athletic Association for negligence for allowing LeCroy to drive the car despite knowing she had incurred "at least four speeding tickets, which included two 'super speeder' violations under Georgia law."
The Georgia Athletic Association released a statement after Bowles' lawsuit was filed.
"Based on our preliminary review, we dispute its claims and will defend the Athletic Association's interests in court."
The suit accuses Jalen Carter, who police said was racing LeCroy in another vehicle, of illegally leaving the scene and failing to render aid.
Carter pleaded no contest to misdemeanor charges of reckless driving and racing in March. Carter was sentenced to 12 months of probation, a $1,000 fine and 80 hours of community service. He also will attend a state-approved defensive driving course.
Carter signed a four-year deal worth $21.8 million with the Philadelphia Eagles after being selected No. 9 overall in the April draft.
Willock's father, Dave Willock, filed a $40 million lawsuit in May against UGA, LeCroy's estate and Carter, among others.
—Field Level Media