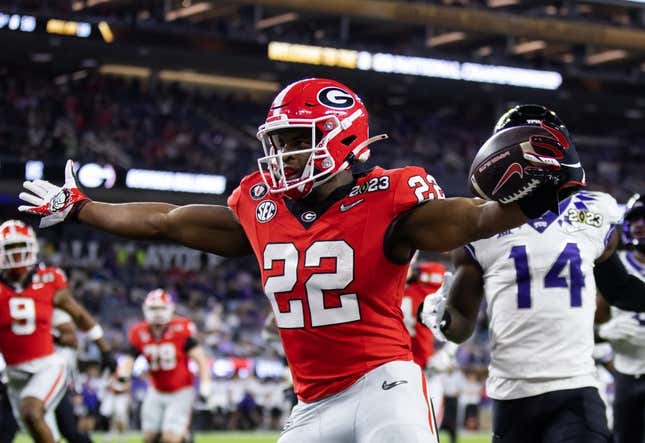 Georgia running back Branson Robinson will miss the upcoming season with a ruptured patellar tendon, coach Kirby Smart announced Wednesday.
How running an NFL team is like running a restaurant | Chef Emeril Lagasse
Robinson sustained the injury in a non-contact drill at practice on Tuesday.
Robinson had 68 carries for 330 yards with three touchdowns in 12 games during his freshman season in 2022. He also scored twice as the Bulldogs breezed to a 65-7 victory over TCU in the national championship game on Jan. 9.
"It won't affect our run-pass ratio," Smart said of Robinson's injury. "We have capable backs. He was one of our better backs. When healthy last year, we think he was kind of coming into his own. He was learning how to pass protect. He had a really good spring while he was going, so we were really excited about where he was headed. He was explosive, twitchy, could do some things in pass pro and running the ball that maybe some of the other guys couldn't do."
Georgia is expected to lean on Daijun Edwards and Kendall Milton, although the latter is nursing a tight hamstring.
Edwards rushed for 769 yards and seven touchdowns last season, while Milton had 592 yards and eight scores.
—Field Level Media