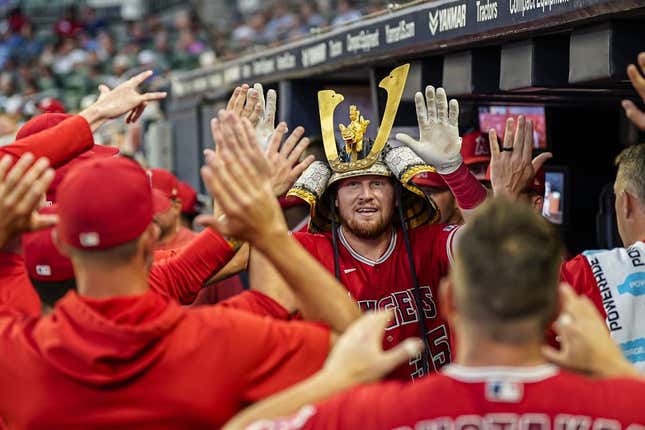 The Los Angeles Angels selected Randal Grichuk one spot before Mike Trout in the first round of the 2009 draft
Is Texas or Florida State a bigger national title contender? | Agree to Disagree
More than 14 years later, Grichuk officially made a contribution for the big-league club
The Angels will look to defeat the host Atlanta Braves on Tuesday night in the middle contest of a three-game series, one day after Grichuk homered in his debut to help Los Angeles post a 4-1 victory
Grichuk and C.J. Cron were acquired from the Colorado Rockies on Sunday night as the Angels attempt to make a run at their first postseason berth since 2014
Trout (fractured left hand) remains on the injured list, but his fingers were working fine over the weekend. He texted Grichuk about the possibility of a trade after Angels outfielder Taylor Ward was struck in the face by a pitch on Saturday. Ward subsequently went on the 60-day IL
"He was trying to hint without telling me, but I didn't get the hint," Grichuk said of Trout's messages
On Monday, it was sinking in that Grichuk could be a key cog for the team that once drafted him 24th overall. He was a minor-leaguer when he was traded to the St. Louis Cardinals following the 2013 season
"It's kind of come full circle," Grichuk said. "I didn't think it would take 14 years to make it to the big leagues with the Angels, but here I am.
Grichuk's blast was his ninth of the season and continued a hot stretch. He hit six over his final 15 appearances for Colorado
Cron also received a text from Trout with similar hints before the trade went down. The two were teammates with the Angels from 2014-17 before Cron was traded to the Tampa Bay Rays
Cron contributed an RBI single to the Monday victory
Shohei Ohtani reached base four times on two singles, an intentional walk and a hit by pitch as the Angels won for the 10th time in 13 games. He was also robbed of a three-run homer in the ninth
Matt Olson bashed his National League-leading 36th homer for the Braves, who are just 6-8 over their past 14 games. Olson reached base four times on two hits and two walks
Olson's homer was Atlanta's 200th of the season, but the offense was quiet overall with just four hits
"Offensively, we had a really good ballgame pitched against us," Atlanta manager Brian Snitker said. "The starter was really good, the bullpen did a great job. We had a hard time generating much offense.
Atlanta's Spencer Strider (11-3, 3.73 ERA) will look to snap a three-start winless streak on Tuesday. He leads the majors with 199 strikeouts
Strider has struck out 33 and walked two in 18 1/3 innings during the winless stretch, compiling a 5.40 ERA and allowing five homers
Strider, 24, received a no-decision against the Boston Red Sox on Wednesday when he gave up three runs (two earned) and six hits over 6 1/3 innings
He has never faced the Angels
Left-hander Patrick Sandoval (6-7, 4.13 ERA) will start for the Angels and strive to win his third consecutive outing
Sandoval defeated the New York Yankees on July 18 when he gave up one run and two hits over 7 1/3 innings. He then allowed two runs and five hits over five innings in a victory over the Detroit Tigers on Thursday
Sandoval, 26, was torched for five runs and eight hits over three innings in his lone career start against the Braves, a 7-2 loss on July 23, 2022
Olson, formerly of the Oakland Athletics, is hitless in 10 at-bats against Sandoval
--Field Level Medi