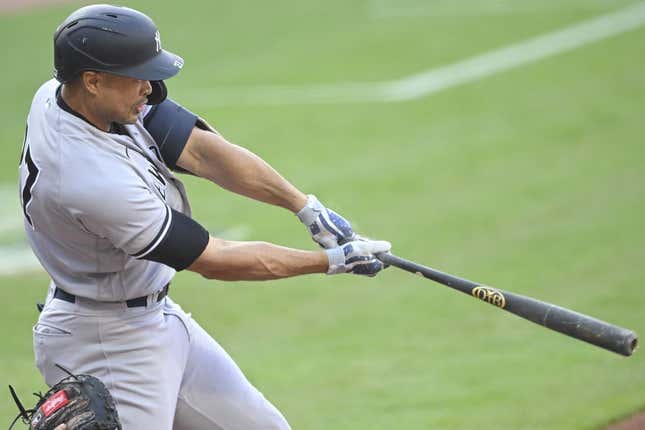 Giancarlo Stanton made frequent trips to the injured list in his first five seasons with the New York Yankees, and he hoped to play this season without injury
'Soccer fandom is full of gatekeepers' says Ted Lasso actor Brendan Hunt
But now, he's back on the IL with a strained left hamstring, and the outfielder/designated hitter told reporters Thursday that he is frustrated for both himself and the team. Placed on the 10-day injured list Sunday, he could miss as long as six weeks.
"It's unacceptable (being injured) this often right now," Stanton, 33, said. "The team relies on me. I can't have this continue to happen and put us in a really tough spot we weren't prepared for.
"There are guys to fill the roles that'll do just fine but at the same time, it's my duty and responsibility to be out there."
The Yankees acquired Stanton from the Marlins on Dec. 11, 2017, sending Starlin Castro, Jose Devers and Jorge Guzman to Miami. The deal came months after Stanton won the 2017 National League MVP award, three seasons into a 13-year, $325 million deal he signed before the 2015 season
Stanton played in 159 games for Miami in 2017, then 158 in New York the following season. But beyond that season, he has played in just 303 of a possible 564 games (53.7 percent).
Injuries keeping him on the bench include strained right biceps and strained right PCL in 2019, and a strained left quadriceps in 2021. The left hamstring also plagued him in 2020.
"The one thing I can say in Giancarlo's case is I don't question his professionalism and his commitment to doing all he needs to do to stay healthy and to be healthy," Yankees manager Aaron Boone said before Thursday's game against the Los Angeles Angels. "So there's clearly that frustration, and Giancarlo feels that responsibility. ... As long as you're doing everything possible to put yourself in the best position to be healthy, then it is acceptable.
Stanton has played in 13 games this season, batting .269 with four home runs and 11 RBIs. And he wanted to continue his strong start.
"I can't control it, but at the same time, it shouldn't be happening," he said. "I prepare my whole life. This is everything I put in for, so it's very disappointing and frustrating. You want to keep a positive outlook, which I have, but at the same time it's just so unbelievable."
--Field Level Media