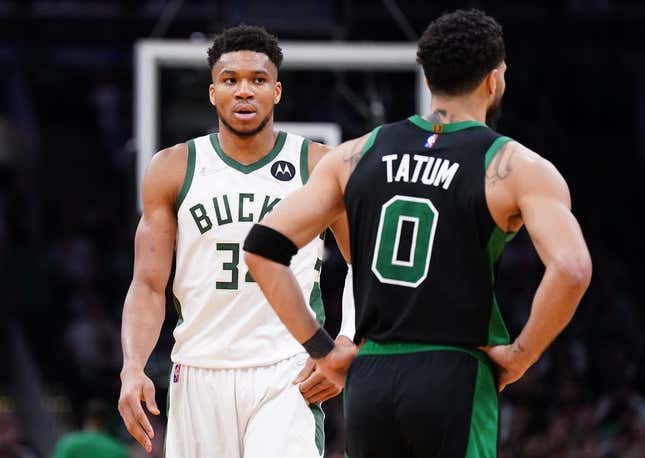 Milwaukee Bucks forward Giannis Antetokounmpo and Boston Celtics forward Jayson Tatum were among those selected to the 2022-23 Kia All-NBA First Team on Wednesday night.
Chris Paul should ride the bench next season | Keep it a Buck(et)
The duo led the voting, with Antetokounmpo receiving 100 first-team votes from a panel of sportswriters and broadcasters. Tatum trailed close behind with 92 first-team votes while also receiving eight for the second team.
It was the seventh All-NBA team selection for Antetokounmpo, and the fifth for Tatum.
In 63 games this season, Antetokounmpo averaged a career-high 31.1 points, 11.8 rebounds and 5.7 assists. But it was a sour end to the campaign for Antetokounmpo, who saw his top-seeded Bucks ousted by the eighth-seeded Miami Heat in the first round of the Eastern Conference playoffs.
Tatum posted averages of 30.1 points, 8.8 points and 4.6 assists per game during the regular season, all of which were career highs. Boston is on the brink of elimination, as it trails 3-2 in its semifinal series against the Philadelphia 76ers. The Celtics will attempt to keep their season alive on Thursday, when they travel to Philadelphia for Game 6.
Joining Antetokounmpo and Tatum on the first team is Sixers center and league MVP Joel Embiid (fifth All-NBA team selection, 87 first-place votes), Oklahoma City Thunder guard Shai Gilgeous-Alexander (first, 63) and Dallas Mavericks guard Luka Doncic (fourth, 60).
Embiid and Doncic posted the highest scoring averages in the NBA during the regular season, averaging 33.1 and 32.4 points per game, respectively. Gilgeous-Alexander averaged the fourth most (31.4) while leading the Thunder to an appearance in the play-in tournament, where they beat the Pelicans before losing to the Timberwolves.
In his first season with his new team, Cleveland Cavaliers guard Donovan Mitchell received 45 first-team votes, but ended up on the second team along with Denver Nuggets center and two-time MVP Nikola Jokic, Golden State Warriors guard Stephen Curry, Heat forward Jimmy Butler and Celtics forward Jaylen Brown.
After a surprising season in which they broke the longest playoff drought in North American professional sports, the Sacramento Kings had two players selected to the All-NBA third team in guard De'Aaron Fox and center Domantas Sabonis. Both Fox and Sabonis celebrated their first selection to an All-NBA team.
Portland Trail Blazers guard Damian Lillard, New York Knicks forward Julius Randle and Los Angeles Lakers forward LeBron James also made the third team. James has the most All-NBA selections with 19.
Notable players to receive votes but not be named to an All-NBA team included Memphis Grizzlies guard Ja Morant, Utah Jazz forward Lauri Markkanen, forward Kevin Durant and guard Devin Booker of the Phoenix Suns and Lakers center Anthony Davis.
--Field Level Media