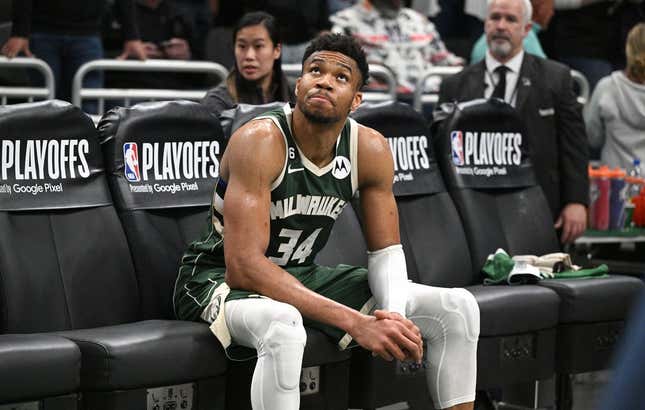 Milwaukee Bucks star Giannis Antetokounmpo will not suit up for his native Greece in the upcoming FIBA World Cup as he continues to recover from knee surgery
How running an NFL team is like running a restaurant | Chef Emeril Lagasse
Antetokounmpo took to social media to announce that he is not physically ready to play
"Everyone knows my passion and love for my National Team has and never will change. Since the conclusion of my NBA season I have been pushing my body to the limits to be the player I need to be to help our team achieve the goals we set," Antetokounmpo wrote on Twitter Friday
"But after months of work and multiple meetings with medical staff it is clear that I am not ready to compete in the level that I need to be to participate in the World Cup.
Antetokounmpo, 28, missed 11 games last season with knee soreness and had a "cleanup procedure" on his knee in June
He expressed disappointment Friday at not being able to represent his country in the competition but said the move was necessary for optimal recovery
"This was not a choice but my only option in ensuring I get back to the level of basketball I have worked so hard to achieve so far in my career," he continued. "I am extremely disappointed in this outcome but this was a decision made with the medical staff
"I'm going to continue to push myself to be ready for the next time my name is called. My personal, and our ultimate team goal is to qualify for the 2024 Olympics games and it will be an honor to represent my National Team next year
The World Cup runs from Aug. 25 to Sept. 10 in the Philippines, Japan and Indonesia. Greece is in Group C with the United States, Jordan and New Zealand
The Bucks said in July they expect Antetokounmpo to be ready for NBA training camp in September
"Yes, he had a routine surgery on his left knee and it went great," Bucks head coach Adrian Griffin told reporters July 5. "Everything went as planned and we expect him back ready to go in training camp.
The two-time NBA MVP and seven-time All-Star averaged 31.1 points and 11.8 rebounds in 63 games during the 2022-23 regular season
Antetokounmpo represented the Greek national team at the FIBA World Cup in 2014 and 2019
--Field Level Medi