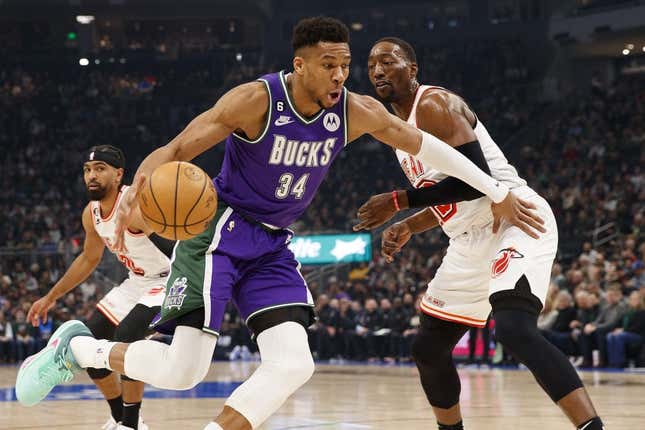 Giannis Antetokounmpo left the Milwaukee Bucks' blowout of the visiting Miami Heat in the first quarter on Friday because of a right knee injury.
The star big man is considered day-to-day looking ahead to the Bucks' Sunday game against the visiting Phoenix Suns.
Antetokounmpo threw a pass to teammate Jevon Carter, then could be heard on the TV broadcast yelling toward the Bucks' bench, "Stop! Stop!" as he hobbled under the basket.
Coach Mike Budenholzer called a timeout with 1:13 to go in the opening period, and Antetokounmpo limped off the court and immediately went down the tunnel to the locker room.
The two-time NBA Most Valuable Player didn't return to action.
Budenholzer said postgame, "The basic update I got was he knocked knees and wasn't able to return. So we'll see how he feels (Saturday) and just evaluate him, take him day by day."
Antetokounmpo had been considered questionable to play against Miami because of a right wrist ailment. The wrist injury limited Antetokounmpo to nine minutes in the Bucks' previous game, a win over the Chicago Bulls on Feb. 16. He made a brief appearance in the All-Star Game on Sunday, dunking on the first play before exiting.
In the Bucks' 128-99 win over the Heat, Antetokounmpo wound up with four points, four rebounds and four assists in six-plus minutes of action.
On the season, Antetokounmpo is averaging 31.3 points, 12 rebounds and 5.4 assists in 48 games. He has career averages of 22.5 points, 9.6 rebounds and 4.7 assists.
--Field Level Media