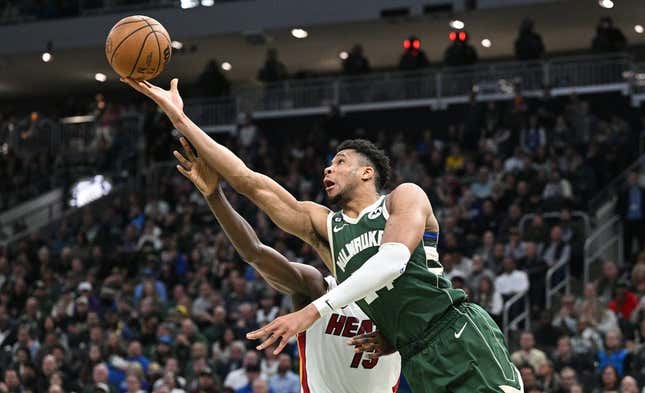 Milwaukee Bucks star Giannis Antetokounmpo said he is putting the pursuit of NBA championships over financial gain in pledging not to sign a contract extension before gauging the direction of the team.
How running an NFL team is like running a restaurant | Chef Emeril Lagasse
The two-time league MVP signed a five-year, $228.2 million supermax contract in 2020, with a player option after the 2024-25 season.
Milwaukee can offer him a three-year, $173 million extension starting Sept. 22.
Antetokounmpo told the New York Times in an interview published Thursday that he's not interested — at least not yet.
"The real question's not going to be this year — numbers-wise it doesn't make sense," Antetokounmpo told the newspaper. "But next year, next summer it would make more sense for both parties. Even then, I don't know.
"I would not be the best version of myself if I don't know that everybody's on the same page, everybody's going for a championship, everybody's going to sacrifice time away from their family like I do. And if I don't feel that, I'm not signing."
The Bucks won the league crown in the 2020-21 season, then went 51-31 the next year before losing in the Eastern Conference semifinals to the Boston Celtics. Last season, the Bucks went 58-24 before the Miami Heat upset the top seed in the first round of the playoffs.
Head coach Mike Budenholzer was fired and replaced by former Toronto Raptors assistant Adrian Griffin, with Antetokounmpo reportedly involved in the hiring process.
Still, a coaching change has him in a wait-and-see approach.
"You've got to see the dynamics," he said. "How the coach is going to be, how we're going to be together. At the end of the day, I feel like all my teammates know and the organization knows that I want to win a championship. As long as we're on the same page with that and you show me and we go together to win a championship, I'm all for it. The moment I feel like, 'Oh, yeah, we're trying to rebuild ...'"
The Bucks have tried to keep its core players when they became free agents, such as center Brook Lopez and guard/forward Khris Middleton this offseason.
Milwaukee, with its top player under contract for two more years, still could make him happy.
"There will never be hard feelings with the Milwaukee Bucks," he said. "I believe that we've had 10 unbelievable years, and there's no doubt I gave everything for the city of Milwaukee. Everything. Every single night, even when I'm hurt. I am a Milwaukee Buck. I bleed green. I know this.
"This is my team, and it's going to forever be my team. I don't forget people that were there for me and allowed me to be great and to showcase who I am to the world and gave me the platform. But we have to win another one."
—Field Level Media