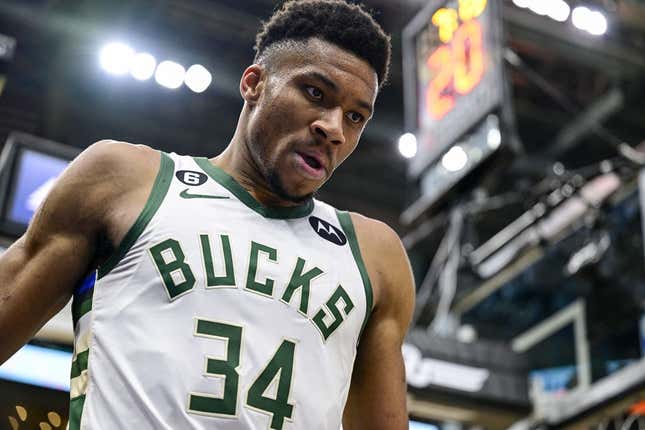 Perhaps the most respected player in the NBA, Giannis Antetokounmpo has not been feeling the love lately and the Milwaukee Bucks star appears to be promising an even better version of himself next season
Aaron Rodgers should go full Joe Namath | Comedian Bert Kreischer
The two-time NBA MVP took to Instagram on Tuesday to deliver a warning for all who try to stop him.
"I'm tired of all the disrespect," Antetokounmpo wrote on his verified Instagram account, beneath a photo of him on the bench amid the glow of menacing green light. "I'm coming."
There was no indication on where the disrespect was coming from, although the post did come five days after the Bucks fired head coach Mike Budenholzer and less than two weeks after Milwaukee was eliminated in the first round of the playoffs by the Miami Heat
Antetokounmpo averaged 23.3 points with 11.0 rebounds and 5.3 assists in the series but missed two games with a bruised back. In the regular season, the 2021 NBA Finals MVP averaged a career-best 31.1 points with 11.8 rebounds and 5.7 assists as the Bucks entered the playoffs with the NBA's top overall seed
Earlier Tuesday, Antetokounmpo took to social media to praise Budenholzer, his coach for five seasons.
"Thank you for five meaningful years Coach," Antetokounmpo wrote. "We accomplished something unbelievable and I'm forever grateful."
That something is believed to be the Bucks' 2021 title, when they defeated the Phoenix Suns 4-2 in the NBA Finals. He averaged 35.2 points, 13.2 rebounds and 5.0 assists in the six games
In his 10 NBA seasons after he was the No. 15 overall draft pick in 2013, Antetokounmpo has averaged 22.6 points, 9.6 rebounds and 4.7 assists in 719 career games (654 starts).
--Field Level Media