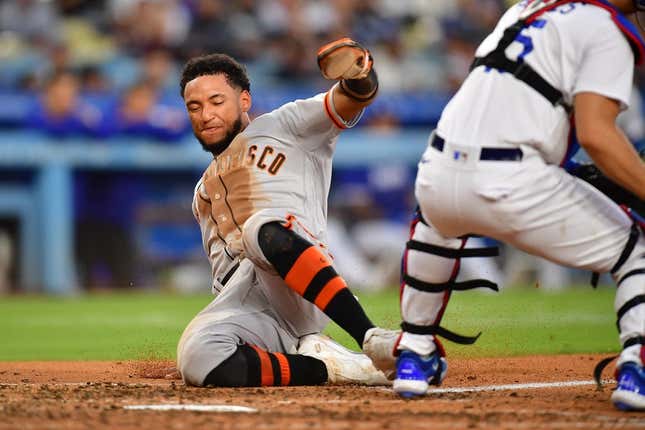 San Francisco baseball fans will get an opportunity to welcome back a red-hot team as well as greet prospect Luis Matos in his home debut when the Giants open a four-game series against the San Diego Padres on Monday night
How running an NFL team is like running a restaurant | Chef Emeril Lagasse
The Giants have lost their last three home series -- to the Pittsburgh Pirates, Baltimore Orioles and Chicago Cubs -- but have won seven straight games overall. The last six of those wins came in three-game road sweeps of the St. Louis Cardinals and Los Angeles Dodgers
Along the way, the Giants promoted Matos, a 21-year-old center fielder who singled in his major league debut Wednesday against the Cardinals, then contributed three hits, five walks, six runs and two RBIs to 7-5, 15-0 and 7-3 wins vs. the Dodgers over the weekend
The hat trick allowed the Giants to pass the Dodgers in the National League West standings, where San Francisco will begin the week a season-best seven games over .500, 3 1/2 games behind the first-place Arizona Diamondbacks and four games up on the fourth-place Padres
A job well done, but a job not finished, Giants ace Logan Webb said after pitching seven innings in Sunday's win over the rival Dodgers
"The boys have been swinging it; it's always fun as a pitcher to see that," Webb said of Giants hitters, who put up 52 runs on the trip
"We're only 70 games into the season," he continued. "It is cool (to sweep the Dodgers), but there's a long way to go. We're more excited about the road trip as a whole than the three-game series (against Los Angeles)."
A weeklong homestand is off to a bumpy start for the Giants, who had to scratch Alex Cobb from his scheduled start Monday because of a strained left oblique. He went on the injured list on Sunday
The club is expected to go the opener/bullpen route in the series opener, but will have to do so without their chief opener -- John Brebbia -- who also went on the injured list over the weekend because of a lat strain.
The Giants' listed starter is rookie right-hander Ryan Walker (2-0, 1.23 ERA). His longest appearance this season was three innings on June 11. He has never faced the Padres
San Diego completed a 4-2 homestand with a 5-4 victory over the Tampa Bay Rays on Sunday. Manny Machado drove in a pair of runs in the win.
Machado launched two homers and Nelson Cruz collected a total of six hits when the Padres outslugged the Giants 16-11 and 6-4 in Mexico City in April in their only previous meeting this season
Right-hander Michael Wacha (7-2, 2.89 ERA) will get the call for San Diego in Monday's series opener. He last contributed 6 2/3 innings to a 5-0 shutout of the Cleveland Guardians on Wednesday during the Padres' homestand
The 31-year-old has not allowed a run in his last two starts spanning 12 2/3 innings.
Wacha has never lost a regular-season start against the Giants, going 2-0 with a 1.42 ERA in seven outings covering 38 innings
Unlike the Giants, the Padres will begin the series in good shape on the health front among their pitchers, with manager Bob Melvin indicating on Sunday that Seth Lugo, out since mid-May with a strained right calf, likely will be reinstated to start Tuesday's game
"At some point in time, we were probably going to look at how many innings he was throwing," Melvin said of Lugo, who is being used full time as a starter for the first time since 2017 season with the New York Mets.
"At least at this point, he's gotten a little bit of a break."
--Field Level Media