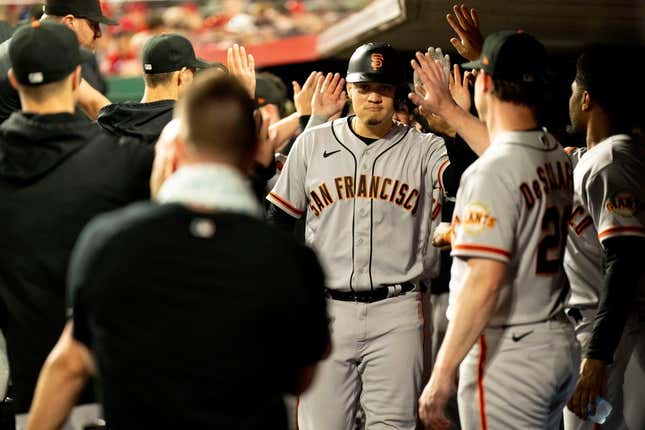 The San Francisco Giants will look to extend their seven-game winning streak when they oppose the slumping Reds on Wednesday in the third game of a four-game series at Cincinnati
How running an NFL team is like running a restaurant | Chef Emeril Lagasse
The Giants have been paying close attention to the details during their streak, which is the longest active run of success in the majors
In the ninth inning of their sixth straight win, a 4-2 triumph in 10 innings over the Reds in the completion of a suspended game on Tuesday, San Francisco's submarining reliever Tyler Rogers started his motion before spinning around and picking off Reds phenom Elly De La Cruz as the rookie took his lead off second base
"Controlling the running game from the bench is something that we've worked so hard on and we know that controlling the running game wins games," Giants manager Gabe Kapler said. "Having a sellable inside move that baserunners will actually buy is a huge emphasis for us
"Obviously, he's one of the one of the fastest, if not the fastest baserunner in the game, and you want to keep him right where he is. At third base, he becomes even more dangerous. Erasing that baserunner may have been the most important moment of the game."
San Francisco built on that success in the regularly scheduled game later Tuesday night, outscoring Cincinnati 11-10.
The Giants will send Ross Stripling (0-2, 6.11 ERA) to the mound, with the right-hander looking for his first win in a San Francisco uniform. Stripling will be making his ninth start and 14th appearance of the season
In his most recent outing, Stripling allowed two runs on five hits in 4 2/3 innings during a no-decision at Pittsburgh on Friday. In four career appearances (two starts) vs. Cincinnati, he has no decisions and a 4.63 ERA.
The Reds, losers of six straight, will counter with one of their hottest pitchers, Graham Ashcraft (4-7, 5.95). In his latest start, the right-hander allowed just one run and five hits over six-plus innings while taking a 1-0 loss against the Milwaukee Brewers on Friday
Ashcraft dominated the Giants as a rookie in 2022, going 2-0 with a 1.26 ERA in two starts. He allowed just two runs and 10 hits over 14 1/3 innings
The Reds sustained another blow to their rotation on Tuesday night when Luke Weaver took a Michael Conforto line drive off the back of his left (non-pitching) arm. X-rays were negative, but Weaver's status for his next start is uncertain
The Reds used five relievers in the suspended-game loss and six more in the second game after Weaver's third-inning exit, leaving the pitching staff in need of reinforcements
On the positive side for Cincinnati, Joey Votto belted his 350th career home run and star prospect Christian Encarnacion-Strand hit his first in the nightcap.
The four-homer, 14-hit game was a much-need breakout for a Cincinnati offense that had scored just five runs in the previous five games.
"Those stretches where you don't score, that's a major league season," Votto said. "We're going to keep plugging away. This is not a clubhouse where guys think about that sort of stuff. Just come out and play with joy and play with intensity and play to win."
--Field Level Media