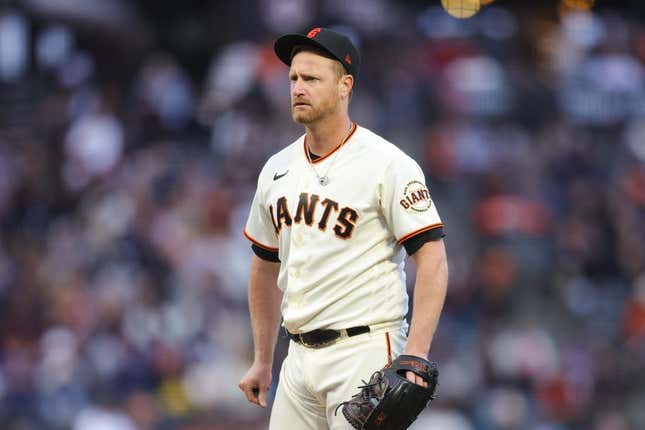 The San Francisco Giants scored a win in their first game back from the All-Star break, and they also appear to have withstood a few injury scares
How running an NFL team is like running a restaurant | Chef Emeril Lagasse
After the Giants recorded a 6-4 win over the host Pittsburgh Pirates to open a three-game series on Friday, San Francisco manager Gabe Kapler wasn't sure of the status of two of his outfielders going into the Saturday evening matchup
Right fielder Michael Conforto left the opener after getting hit by a pitch in the rib area, and left fielder Austin Slater departed because of a heel bruise he sustained on a fielding play. Kapler told reporters that both players should be OK, adding that Conforto did not have X-rays.
The Giants won the back-and-forth game with a three-run seventh inning to pick up their third victory in a row after losing five of six games at the start of July
Pittsburgh fell to 2-8 this month and needs to win on Saturday to have a chance at avoiding a fourth straight series loss.
One bright spot for the Pirates came from designated hitter Ji Man Choi, who, in his fourth game back from an extended absence caused by an Achilles injury, hit a solo homer and a sacrifice fly
"I think you saw good at-bats," Pittsburgh manager Derek Shelton said. "We knew when we signed him he could help our offense."
In the middle game of the series, San Francisco right-hander Alex Cobb (6-2, 2.91 ERA) and Pittsburgh right-hander Johan Oviedo (3-10, 4.75) are scheduled to start.
In his last game before the All-Star break, Cobb turned in a gem. On July 5 against the visiting Seattle Mariners, he pitched six scoreless innings, scattering six hits, striking out seven and walking none in the Giants' 2-0 win. The result also ending San Francisco's four-game losing streak
"It was great for (Cobb) to come out and just pound the strike zone, use all of his pitches, mix them well, hit spots," Kapler said.
If things go well on Saturday, perhaps Cobb will be allowed to pitch deeper into the game. He was on the injured list in June because of an oblique strain, and Kapler said Cobb's pitch count, 88, in his second game back contributed to him being pulled after six.
"I do look at my numbers overall and say that looks like a good body of work," Cobb said. "I just feel like there's more consistency that I could probably get better at."
Cobb, who threw a scoreless inning for the National League in the All-Star Game on Tuesday, is 0-1 with a 4.24 ERA in three career starts covering 17 innings against the Pirates
Oviedo, meanwhile, has lost his past seven decisions, and he took defeats in each of his past six starts.
Most recently, he gave up five runs in 6 2/3 innings on July 6 as the Pirates lost 5-2 to the host Los Angeles Dodgers. Of the six hits he allowed, two were two-run homers
"I thought Oviedo did a nice job and just made a couple of bad pitches, and that ultimately ended up being the deciding factor," Shelton said.
Against the Giants, Oviedo is 0-1 with a 3.24 ERA in two career starts. That includes a no-decision in San Francisco on May 30, when he gave up one run on three hits and five walks in 4 1/3 innings
--Field Level Media