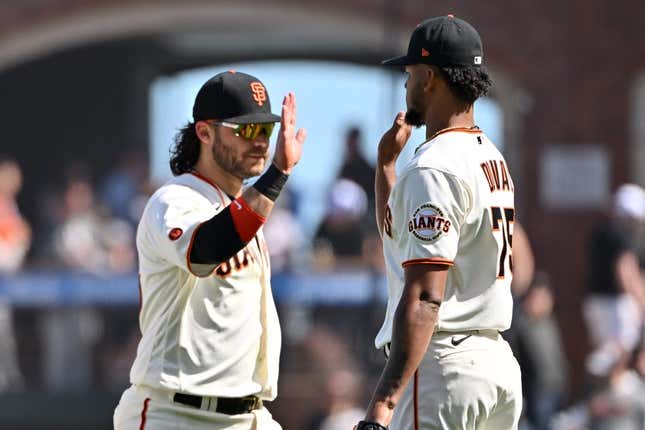 The San Francisco Giants hope the New York Mets have brought out the worst in them
'Soccer fandom is full of gatekeepers' says Ted Lasso actor Brendan Hunt
After enduring 9-4 and 7-0 drubbings at the hands of the Mets, the host Giants exacted a measure of revenge with a 7-4 victory on Saturday. San Francisco will bid for a split of the four-game series against New York on Sunday night
Brandon Crawford belted a three-run homer, former Met Wilmer Flores also went deep and Logan Webb threw seven sharp innings on Saturday.
"In a way it's a little bit good for us to struggle at first," Crawford said of the team's 7-13 start. "We've been through it. We know at some point in the season, there's going to be some ups and downs. Hopefully this is a down for us."
With right-hander Tylor Megill (3-1, 3.00 ERA) slated to start the series finale for the Mets, the Giants could elect to activate Joc Pederson (sprained right wrist) from the injured list. San Francisco already saw the return of former Met Michael Conforto (tight left calf) earlier in the series
With starting outfielders Mitch Haniger (strained left oblique) and Austin Slater (strained left hamstring) considered to be no more than a week away from their season debuts, Crawford sees brighter days ahead.
"When we get those guys back, it can jump-start our offense," he boasted. "If we pitch the way we know that we can, we can start to win these games."
Megill won each of his first three starts, limiting the Miami Marlins (twice) and San Diego Padres to a total of four runs on 12 hits in 16 innings. He received no run support in a 5-0 road loss to the Los Angeles Dodgers on Tuesday, however.
The 27-year-old Megill has made three previous starts against the Giants, going 0-1 with a 6.89 ERA. He's allowed 23 hits, including five homers, in 15 2/3 innings in those games
The California native did pitch well in his only previous appearance in San Francisco -- one run in six innings in a no-decision on Aug. 18, 2021. He said earlier in the week that he enjoyed his outing at Dodger Stadium, which is located just 25 miles north of where Megill pitched at Los Alamitos High School.
Megill hopes for similar support from family and friends in Northern California.
"It's home. Very comfortable for me," he said of the California trip. "Enjoyed the atmosphere (in Los Angeles)."
Pederson is among three current Giants who have homered off Megill, joining Mike Yastrzemski and LaMonte Wade Jr
Despite falling to 7-2 on their 10-game trip, the Mets kept their bats hot by pounding out 10 hits on Saturday. Starling Marte, Mark Canha and Brett Baty had two apiece
The visitors will test their mettle on Sunday against Giants right-hander Ross Stripling (0-1, 7.30), who will be making his second start of the season
Stripling was in the Giants' opening rotation, albeit for only for one start -- a 6-0 loss to the New York Yankees in which he allowed four runs in five innings. He since has made three relief appearances, serving up six runs in 7 1/3 innings
The 33-year-old has made just one previous start against the Mets. He's 0-0 with a 3.52 ERA in three career appearances against them
--Field Level Media