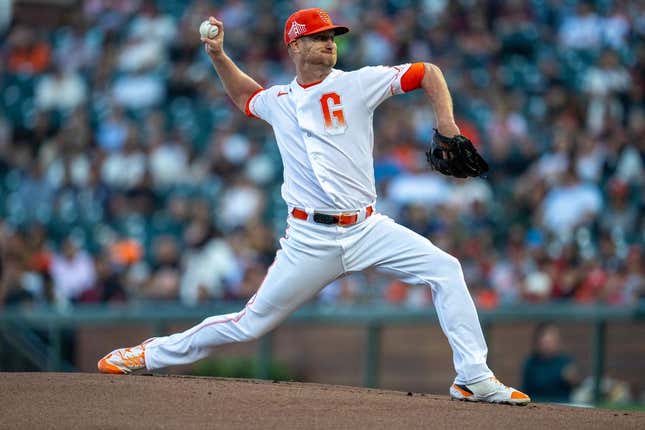 Spencer Steer spoiled Alex Cobb's bid for a first career no-hitter with a two-out double in the ninth inning Tuesday night, but the San Francisco Giants held on for a 6-1 victory over the visiting Cincinnati Reds.
How running an NFL team is like running a restaurant | Chef Emeril Lagasse
Despite entering the game winless with a 5.48 ERA in his previous eight starts, Cobb had allowed just one baserunner (on a third-inning infield throwing error) before walking No. 9 hitter Nick Senzel with one out in the ninth.
After TJ Friedl flied out to right, Cobb went 0-1 on Steer before the right-handed hitter sliced a shot just over the glove of Giants right fielder Luis Matos. The hit, which rolled to the fence, scored Senzel from second.
Cobb (7-5) then struck out Elly De La Cruz with his career-high 131st pitch to record a complete game and give the Giants two straight wins over the Reds to open the three-game series.
The 12-year veteran finished with eight strikeouts and just the one walk.
The Giants did most of their scoring in the second and third innings, benefitting from a balk, a wild pitch, an error and a home run that deflected off the glove of center fielder Friedl to take a 5-0 lead.
The balk called on Reds starter Brandon Williamson (4-4) opened the scoring in the second. With runners at first and third, the left-hander was deemed to have lifted his front foot before stepping off the pitching slab and throwing to first. Patrick Bailey was awarded home plate on the play.
One out later, Matos doubled, scoring J.D. Davis for a 2-0 lead.
The Giants gave Cobb a nice cushion with a three-run third, with Austin Slater, who had doubled, starting the uprising when he scampered home on a Williamson wild pitch.
After third baseman Noelvi Marte threw wildly on a Mitch Haniger ground ball that could have ended the inning at 3-0, Bailey launched a high drive to center field that Friedl seemed to have in the webbing of his glove as he leaped above the wall. The ball squirted out, however, dropping into the Cincinnati bullpen for a two-run homer, the rookie's seventh of the season.
San Francisco tacked on in the eighth on a Slater walk and a Thairo Estrada RBI double.
Slater and Bailey each had two hits and scored twice for the Giants, who won their third straight.
Williamson worked six innings for the Reds, charged with five runs (three earned) on six hits. He struck out five and didn't walk anyone.
—Field Level Media