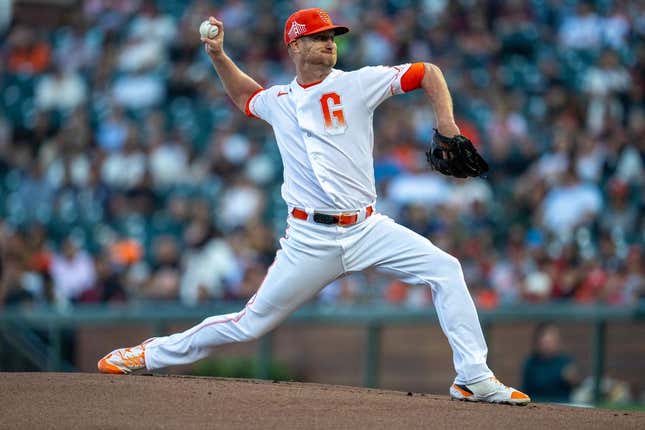 San Francisco Giants' right-hander Alex Cobb came within one out of throwing a no-hitter in his most recent outing.
How running an NFL team is like running a restaurant | Chef Emeril Lagasse
But Cobb has quickly moved on. San Francisco is involved in a congested fight for the third and final wild-card berth in the National League. And Cobb will be in the middle of it Sunday as he faces the Padres in the finale of a four-game series in San Diego.
Speaking of the near-no-hitter, Cobb said: "That was an anomaly of an outing, a once-in-a-career type of an outing. You appreciate a game like that for what it is. You turn the page and go onto the next game."
And that's Sunday, as Cobb (7-5, 3.57 ERA) will be matched against fellow right-hander Seth Lugo (5-6, 3.67) of the Padres.
"We're in the race for a wild-card berth. I need to give us a chance to win. It's a new game," Cobb said.
But there will be at least one statistic that will carry over from Tuesday's near-gem against Cincinnati in San Francisco. Not the final line: nine innings, one run, one hit, one walk and eight strikeouts. Not that the Reds didn't have a hit until Spencer Steer's two-out liner in the ninth sailed just over the glove of right fielder Luis Matos.
No, it's the fact that Cobb threw 131 pitches on Tuesday. How many can he throw on Sunday? Did the Giants consider giving Cobb an extra day's rest to recover? No, said manager Gabe Kapler, who already had approved two bullpen starts in this series.
"Alex had a lot of gas left in the ninth," Kapler said. "Pitch number 124 was 95 miles an hour. At some point, what are you going to do? He had all of his stuff. Tuesday was a beautifully pitched game. I felt for Alex that he didn't get that last out. But there's a sense of pride for what he accomplished. I felt a combination of disappointment and pride."
Also, the Giants rotation is down three veteran starters due to injuries, although Ross Stripling has completed his rehab assignment and could be activated soon. Kapler has been deploying his bullpen as both relievers and spot starters.
"We've needed guys in the rotation who could take us deep into games," Kapler said. "Alex prides himself on that."
Cobb will be facing the Padres for the second time this season. In his first start against the Padres on April 30, Cobb notched a no-decision after allowing three runs on seven hits with seven strikeouts over five innings.
The 35-year-old Cobb has a 1-1 record with a 4.38 ERA in five career starts against the Padres.
Meanwhile, Lugo will be making his 22nd start this season for the Padres. That is a career high for Lugo, who had made only 38 starts in 275 career appearances over seven seasons for the New York Mets.
"There's no innings limit on Lugo," Padres manager Bob Melvin said recently. "He now views himself as a starter and that's the way we view him."
Lugo, who has reached a career high at 115 1/3 innings, has 113 strikeouts against 26 walks.
In his previous start this season against the Giants on June 20, Lugo recorded a no-decision despite allowing just one run on three hits and a walk with five strikeouts in five innings.
Lugo is 2-2 with a 3.03 ERA in 14 career appearances (three starts) versus San Francisco.
—Field Level Media