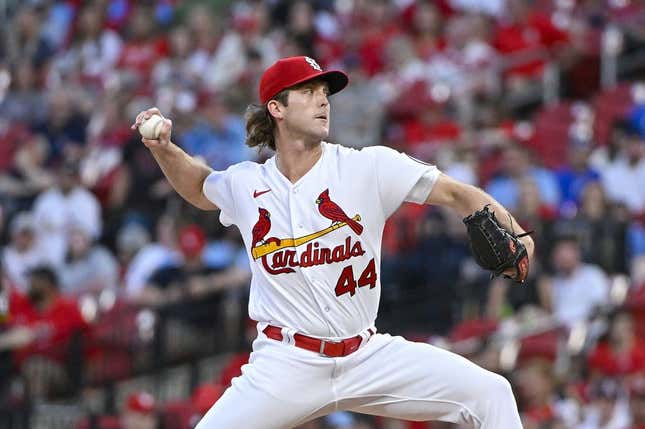 One day after the San Francisco Giants added two powerful bats to their lineup, the visiting St. Louis Cardinals hope to get one back, too, when the clubs continue a four-game series on Tuesday
Austin Slater (strained left hamstring) and Mitch Haniger (strained left oblique) made their Giants season debuts on Monday as San Francisco won 4-0 in the series opener. Slater contributed two hits to the club's third straight victory, while Haniger produced the game's first run with a seventh-inning sacrifice fly
Third baseman J.D. Davis' three-run homer and Alex Cobb's shutout pitching stole the headlines in the triumph, but Giants manager Gabe Kapler gave a shout-out to his error-free defense
"Just ground ball after ground ball," he said of Cobb's performance. "One obvious difference from some of the outings that Cobb has had in the past where he's gotten a lot of ground balls is we just made all the plays behind him.
"J.D. Davis had been playing Gold Glove-caliber defense, nothing short of that. (David) Villar is getting more comfortable at second base; you can see it in his body language. And Thairo (Estrada) did a good job out there at shortstop."
Exactly who the defense will be supporting in the rematch on Tuesday was unknown when the Giants left the stadium on Monday. It's possible Kapler will call upon an opener in a bullpen game, and if so, he will have a fresh bunch from which to choose
Giants pitchers figure to see Nolan Arenado after he sat out the series opener as he deals with a 5-for-32 (.156) slump that has prompted his average to fall from .357 to .284. He hasn't homered since April 12 at Colorado
Arenado, 32, took batting practice Monday but admits he doesn't treat it or pregame infield practice as a must-do anymore.
"I work hard at it," he said of his game. "But to be quite honest with you, I'm doing less. Less work means less wear and tear. I feel like I overdid it when I was younger, for sure. I think I overdid it, but I was having success. So I was like, 'I'm not gonna stop.'
"But now that I'm older, I'm doing less. I think I have this confidence that I'm ready for this next game."
Arenado has been one of the toughest opponents for Giants pitchers to get out in his visits. The slugger has 12 career homers and 41 RBIs in 68 lifetime games in San Francisco
The Cardinals managed just six hits off Cobb, with Brendan Donovan getting two of them
St. Louis' scheduled starter for Tuesday is Jake Woodford (1-2, 6.05 ERA).
The last time he took the mound, his teammates came through in a 14-5 home win over the Arizona Diamondbacks on Wednesday. Second baseman Tommy Edman, who made a costly error in the Giants' four-run seventh on Monday, was Woodford's best friend, recording a double, a triple and a home run while finishing with five RBIs and three runs
Woodford prevailed despite yielding four runs on seven hits in five innings.
Woodford will start against the Giants for the first time. The right-hander faced them twice in relief last season, going 0-0 with a 0.00 ERA in 4 1/3 innings
--Field Level Media