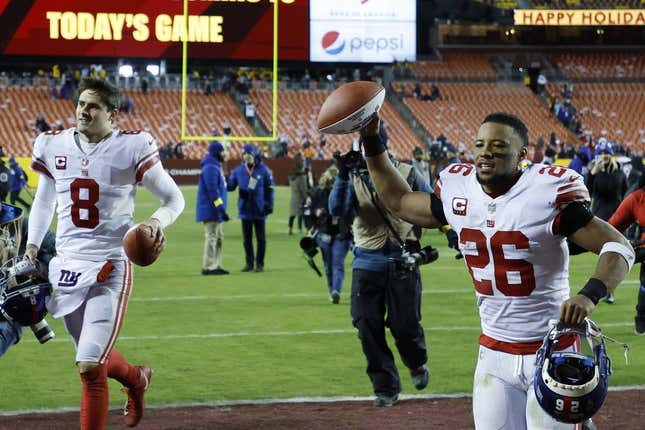 The New York Giants remain hopeful they can reach long-term agreements with both quarterback Daniel Jones and running back Saquon Barkley this offseason.
Both players are slated to become free agents with the franchise tag possibly being utilized on one of them.
Giants general manager Joe Schoen said Tuesday that he was "cautiously optimistic" the team would get deals done with both Jones and Barkley.
Schoen reiterated that Jones will be on the 2023 roster. What isn't clear is whether the team can reach a long-term deal with Jones or will use the franchise tag by the March 7 deadline.
Last April, the Giants declined Jones' fifth-year option worth $22.3 million for 2023.
Then Jones enjoyed the best season of his four-year career by throwing just five interceptions and leading the Giants to the postseason. He passed for 15 touchdowns and set career highs for yardage (3,205), completion percentage (67.2), rushing yardage (708) and rushing scores (seven).
Jones is reportedly seeking a deal worth at least $45 million per season. Schoen didn't have much to say about that report.
"I'm not going to get into that," Schoen said at the NFL combine in Indianapolis. "I don't want to get any divide on that stuff. We're going to keep the negotiations between the two parties, and I think it's best to do it that way."
If the Giants use the franchise tag on Jones, his pay would be $32.4 million in 2023.
Meanwhile, Barkley played for $7.2 million in his fifth-year option last season and is looking for a sizable raise as part of a long-term deal.
Barkley rushed for a career-high 1,312 yards and added 10 rushing touchdowns last season after battling injuries the previous two seasons. He reportedly previously turned down a deal worth over $12 million annually.
Schoen feels the two sides have narrowed the difference in recent negotiations.
"We haven't totally bridged (the difference). We're a little bit closer," Schoen said. "There's still a gap. (Otherwise) would've done it. We'll still work through that."
The franchise tag for running backs is $10.09 million.
--Field Level Media