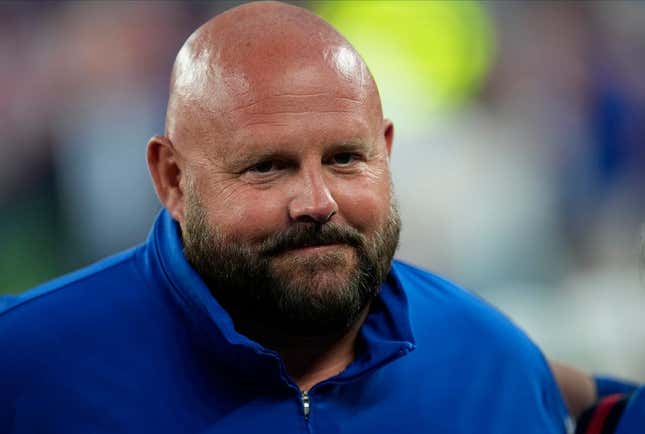 New York Giants coach Brian Daboll didn't mince words after reviewing the film of his team's 40-0 loss at home to division-rival Dallas on Sunday night.
How running an NFL team is like running a restaurant | Chef Emeril Lagasse
"It was a collective effort," Daboll said on Monday, following an admittedly restless night of sleep.
"There were a few things you can build on but when you get beat like the way we got beat, no excuses. I'd say there's a lot of work that needs to be done, a lot of corrections that need to be made and that's what we'll do today."
After a promising opening drive stalled in the red zone following a penalty and a fumble that the Giants recovered, the Cowboys blocked a field-goal attempt and returned it for a touchdown.
It was suddenly 6-0, and the avalanche had begun.
By the end of the night, Dallas had outgained New York 265-171 and produced three turnovers and seven sacks to the Giants' none in either department.
"After a game like last night, every area we've got to draw our attention to," Daboll said. "You take it for what it's worth. It was a poor performance. You learn from the things that you can learn from and then you really got to get focused on the next week."
Week 2 provides what on paper looks like a very winnable game at Arizona. That kicks off a three-week stretch against NFC West foes that includes a trip to San Francisco before returning home to play Seattle in Week 4.
The Giants won't play another divisional opponent until hosting Washington in Week 7.
But first comes dissecting the causes behind Sunday night's meltdown, which were many. After a Week 1 win last year, Daboll made some significant changes to the depth chart. Daboll wouldn't commit to any specific changes, but said the staff will continue to review the Dallas film with a critical eye.
"When you walk out after a game like that, there is a lot of emotion. You put everything you got into it, and we didn't perform well and that starts with me," Daboll said. "There is a self-reflection and then you watch the tape, you go through whether it's decisions, whether it's plays, whether it's techniques and then you move on to the next week.
"These guys are human and there is an element of emotion to it, and you know we didn't perform well. So, you own it ... tell them the things that you need to fix. It starts with you and then you move on.
"You can't let it linger too long. ... It won't be a fun tape to watch, it wasn't with the coaches, it's not with the players, but you know that's what happened. So, you can't run from it, you can't hide from it, you own it, and then you move on."
—Field Level Media