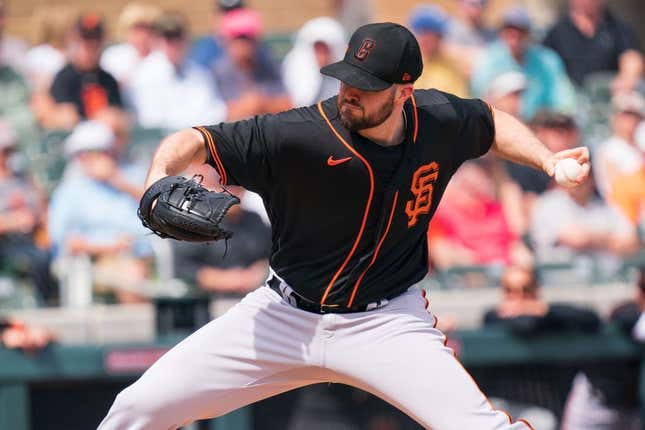 A surplus of starters and two off days in the first week of the season pushed Alex Wood's 2023 debut back a bit.
Bass' ERA stinks, but not compared to who he is off the mound | Worst of the Week Countdown
After a solid spring training, the San Francisco Giants left-hander is eager to get his season going on Thursday as he aims to pitch his team to a series victory against the host Chicago White Sox
Wood closed the spring with two consecutive victories. He is coming off a March 26 exhibition win at Oakland that saw him scatter three runs, two earned, and three hits in 5 1/3 innings with three walks and 10 strikeouts.
"I thought that my stuff was really good start to finish," Wood said. "Regardless of the result, over the long term, I feel like my stuff is where I want it to be."
Wood hopes to reset after ending last season on the injured list due to a throwing shoulder impingement. He was 8-12 with a 5.10 ERA in 26 starts overall but had a 13.86 ERA over his last three starts, allowing five home runs over 12 1/3 innings.
Wood was 2-1 with a 3.60 ERA in four spring starts covering 15 innings. He walked six and fanned 24.
San Francisco is eyeing similar consistency from Wood while hoping to get some stability from the offense.
A seven-homer effort in Monday's series-opening 12-3 rout of Chicago was nowhere to be found on Wednesday. White Sox pitching held the Giants to four hits, including two in the ninth inning, as Chicago evened the series with a 7-3 victory
Right-hander Lance Lynn (0-0, 3.18 ERA) is set to start for Chicago. He limited the Houston Astros to two runs and three hits with four walks and six strikeouts over 5 2/3 innings during his season debut on Friday.
While Lynn took a no-decision, he nevertheless faulted himself for yielding a two-run homer to the Astros' Kyle Tucker on his final pitch of the night, helping Houston pull within one run.
"I was able to make some pitches I was missing early on," Lynn said. "I thought some pitches were close, but they were off. I was able to fine-tune it as I went, and I made one big mistake on the last pitch.
"You don't go six innings, you don't do your job as a starter. I didn't do my job (Friday), and it cost us the game."
Chicago lost that game in Houston and fell the following afternoon against the Astros but has won two of three since. The White Sox have collected at least 10 hits in five of six games overall
Luis Robert Jr. contributed three hits and an RBI for the White Sox on Wednesday. Gavin Sheets had two hits and three RBIs
Chicago designated hitter Eloy Jimenez (strained left hamstring) was placed on the 10-day injured list before the Wednesday game, with Jake Burger called up from Triple-A Charlotte in a corresponding roster move. Burger and Sheets figure to form a platoon in Jimenez's absence.
"Together, we make a pretty good player," Sheets said.
Lynn is 1-4 with a 3.19 ERA in seven career starts against the Giants, with 30 strikeouts in 42 1/3 innings
Wood has faced the White Sox once in his career, as a member of the Los Angeles Dodgers on Aug. 15, 2017. He took a no-decision after yielding one run and six hits in seven innings with six strikeouts and no walks
Chicago's Tim Anderson, who was ejected from the Wednesday game after arguing a strikeout, reached Wood for a leadoff home run in that 2017 contest.
--Field Level Media