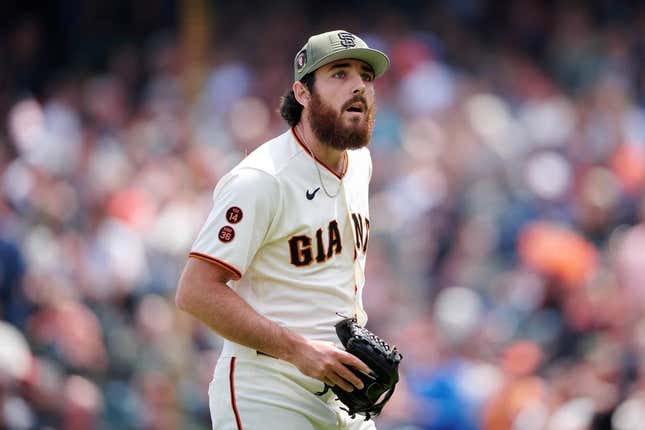 The San Francisco Giants will measure just how much juice they have left in their busy bullpen when they go the opener route in search of a third straight win over the visiting San Diego Padres on Wednesday night
How running an NFL team is like running a restaurant | Chef Emeril Lagasse
The Giants have won nine in a row overall, including the first two contests of the four-game series in walk-off fashion. They received a three-run homer from Mike Yastrzemski in the 10th inning for a 7-4 victory Monday before watching Padres closer Josh Hader walk home the winning run in the ninth for a 4-3 win on Tuesday
Late rallies and game-ending heroics grabbed the headlines, but perhaps the biggest difference in the tightly contested matchups has been the work of San Francisco's bullpen. The Giants have received 12 1/3 innings of three-run ball from six different relievers
The Padres, meanwhile, have tried five different relievers -- including Tim Hill twice -- out of the bullpen for a total of seven innings, during which the Giants have turned seven hits and nine walks into eight runs
The six Giants relievers who have contributed to the wins do not include Ryan Walker (2-0, 1.65 ERA), who was pressed into opener duties on Monday. He will start Wednesday's game as well
Walker allowed one run on three hits in 1 2/3 innings on Monday, his lone career encounter vs. San Diego.
One reason for continued optimism, Giants manager Gabe Kapler insisted, is that he hasn't had to use any reliever more than once in the series, so all are relatively fresh. The lone exception probably is Tristan Beck, who went three scoreless innings in Tuesday's win
"Tristan has pitched in a lot of down-one or down-two games and has given us a lot of length," Kapler said. "You look up at the scoreboard and he's got tons of innings; he's got a low ERA; he has a high strikeout rate; he has a low walk rate. That's the makings of a very good major-league pitcher, and he deserves a lot of credit for where we are right now."
The Padres are set to go the traditional starter route on Wednesday with standout right-hander Yu Darvish (5-5, 4.74), who is coming off one of his worst outings of the season, having allowed six runs in five innings in a 6-2 home loss to the Tampa Bay Rays last Friday. He had won his previous two starts, against the Chicago Cubs and Colorado Rockies, respectively
Darvish didn't get a decision in a 6-4 win over the Giants in Mexico City on April 30, as he was charged with all four runs in six innings. The 36-year-old is 2-2 with a 6.26 ERA in 10 career starts against San Francisco
Darvish will face a team that's been out-hit 20-14 in the series but has come up bigger in the most important situations. The Giants are 4-for-12 with runners in scoring position; the Padres are just 3-for-17
As a result, the visitors have stranded 18 baserunners in 19 innings.
"When you're doing well, you don't even think about it. You just go out there and swing the bat," San Diego's Juan Soto said of his team's lack of success in clutch situations. "But whenever you're doing bad, it gets in your mind. Even when you don't want to think about it, it's right there."
Kapler viewed it from his club's perspective.
"It's a team thing that's happening right now," he said. "There's a lot of trust from one player to the next. Guys are comfortable taking walks."
--Field Level Media