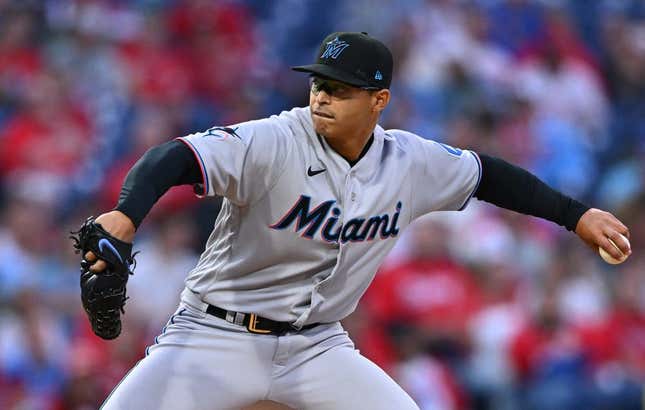 The San Francisco Giants, who won 107 games in 2021, have slipped since then
San Francisco, which opens a three-game series at the Miami Marlins on Monday night, took a 26-win dip last year
Bass' ERA stinks, but not compared to who he is off the mound | Worst of the Week Countdown
The Giants have faced major departures from their 2021 team as catcher Buster Posey retired, and pitcher Carlos Rodon signed as a free agent with the Yankees
This past offseason, the Giants signed star infielder Carlos Correa, but a failed physical voided the deal. The Giants also missed in their pursuit of free agent Aaron Judge
In addition, DH Joc Pederson, who led the Giants in home runs last year with 23, was placed on the injured list on Saturday due to a sore wrist. Right fielder Michael Conforto, who has a calf injury, has missed two straight starts
Fortunately for the Giants, they will start lefty Alex Wood (0-0, 1.17 ERA) on Monday
In 18 career appearances against the Marlins -- including 15 starts -- Wood is 8-5 with a 2.55 ERA
He went 16-3 with a 2.72 ERA in his lone All-Star season, which came in 2017 with the Los Angeles Dodgers. Since then, however, he is just 28-27. That includes last year's numbers: 8-12 record with a 5.10 ERA.
Wood is vulnerable to right-handed batters. Last year, right-handed batters slugged 16 homers and posted an .800 OPS in 428 plate appearances. He held lefty hitters to a .464 OPS and one homer in 127 plate appearances.
San Francisco's bullpen is led by John Brebbia, who last year posted a 3.18 ERA and led the National League with 76 appearances. The Giants also have Camilo Doval, whose fastball reaches 99 mph, and the Rogers twins -- lefty Taylor and righty Tyler
"We have an experienced, quality group of relievers, but they're a little taxed right now," Giants manager Gabe Kapler said
Kapler said that on Saturday. On Sunday, the finale of the Giants-Tigers series was postponed due to rain
That postponement should help give San Francisco's bullpen a rest. Perhaps that will also help the Giants break their three-game losing streak
Meanwhile, the Marlins will enter Monday on a hot streak, having won four of their past five games
One of Miami's unsung heroes is infielder Jon Berti, who led the majors last year with 41 steals, getting caught just five times.
Berti has played every position in the majors except for pitcher, catcher or first base. Lately, he is serving as Miami's starting shortstop, filling in for Joey Wendle, who is on the injured list.
"He brings a different dynamic to our lineup," Marlins manager Skip Schumaker said of Berti. "He changes the game on the bases
"I don't know where we would be without Berti."
The Marlins on Monday will start lefty Jesus Luzardo (2-0, 1.93 ERA)
Luzardo, a 25-year-old native of Peru, had his career-best ERA last season (3.32) as he went 4-7 in 18 starts.
His fastball averages 96 mph, but his curve and changeup are his out pitches.
Luzardo has only faced the Giants twice in his career, going 1-0 with a 5.79 ERA in two starts
Miami's bullpen is led by lefty A.J. Puk, 27, and righty Dylan Floro, 32.
Puk, a starter in his college days at Florida, has a 1.50 ERA so far this season. He's using his upper-90s fastball against lefties and his slider versus lefties.
Floro, who has a 0.00 ERA in six appearances, is not overpowering. But he gets hitters to chase by using his sinker-slider combo.
Both Puk and Floro are well rested and should be available if needed on Monday.
--Field Level Media