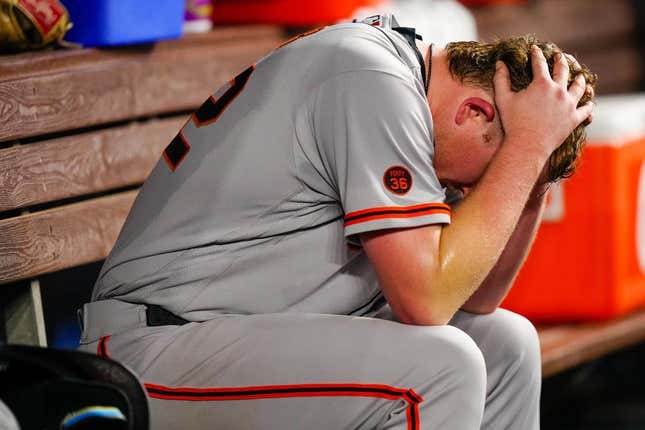 Logan Webb looks to end a season-long drought while stalling the New York Mets' season-best surge when the right-hander gets the ball for the struggling San Francisco Giants on Saturday afternoon
Bass' ERA stinks, but not compared to who he is off the mound | Worst of the Week Countdown
The Mets rolled to 9-4 and 7-0 victories on the first two nights of the four-game series, improving their record on a 10-game California trip to 7-1
Pete Alonso hit his second home run in two days -- and major-league-leading 10th of the season -- and Jeff McNeil added two hits to his three in the series opener for the Mets on Friday. New York also got seven shutout innings from Joey Lucchesi in his return from Tommy John surgery
Webb (0-4, 4.94 ERA), who opened a 15-win campaign a year ago with five wins in his first seven starts, has had no such luck this season. While the Giants have supported him with a total of just seven runs, he has allowed four runs in each of his first four starts
Three of those outings were on the road, and Webb had his best game in his lone previous home start. He held the Los Angeles Dodgers to just one earned run (four total) in a 9-1 defeat on April 10.
The 26-year-old is 1-1 with a 3.94 ERA in three career starts against the Mets. The win came in August 2021, a 3-2 decision in which he went 7 1/3 innings and allowed just two runs
In order to duplicate that success, he likely will have to cool off Alonso, who not only had a two-run homer on Friday, but he added a two-run single that helped ice the win. He is 4-for-9 with two homers and eight RBIs through the first two games of the series.
"I just feel really good and in control right now, which is a really good feeling, because I am taking pitches -- borderline pitches -- and just capitalizing on stuff in my zone," Alonso said. "I feel like I am more of a complete player. I feel like I am playing well on both sides of the ball, offensively and defensively, and I feel like I am running the bases well."
Webb has gotten the better of Alonso in their past matchups, limiting the slugger to 1-for-8 success while striking him out three times. But Alonso also has a walk and a home run vs. the righty.
Left-hander David Peterson (1-2, 6.10 ERA) is scheduled to make the start for New York, which has won three games in a row.
Giants manager Gabe Kapler noted his team, which has dropped seven of eight, has scuffled against lefties this season, with big right-handed hitters Austin Slater and Mitch Haniger yet to play because of injuries
"We haven't had success against left-handed pitchers thus far this season, and we thought of that as one of our biggest strengths," Kapler said. "It's a problem we have to solve."
Peterson will be making his fourth road start in five outings, having been bombed at Milwaukee (five runs in four-plus innings) and at Dodger Stadium (six runs in six innings) in his past two road appearances.
He was able to walk away from that latter outing with his first win of the season when his teammates bailed him out in an 8-6 victory.
The 27-year-old has faced the Giants once in his four-year career. He got the win, allowing two runs in six innings during a 13-3 triumph at San Francisco last May
Peterson surrendered a two-run homer to Brandon Crawford in that game, but homers by Mets teammates Alonso, McNeil and Mark Canha far outweighed his one mistake
--Field Level Media