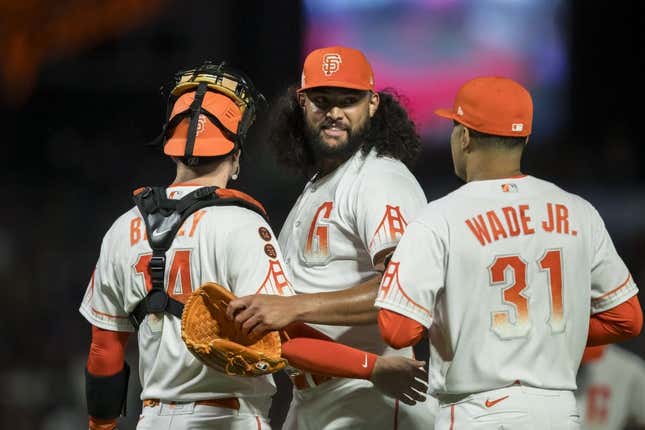 The San Francisco Giants would like nothing better than to end a string of one-run thrillers with a one-sided victory when they continue their four-game series against the visiting Arizona Diamondbacks on Wednesday night
How running an NFL team is like running a restaurant | Chef Emeril Lagasse
The Giants rallied for a 4-3 win over the Diamondbacks on Tuesday night, one day after Arizona used extra innings to record a 4-3 victory of its own against San Francisco
In fact, the Giants have played three consecutive games that have finished with a 4-3 score. That string has come on the heels of back-to-back 3-2 decisions
Tuesday's win allowed the Giants to remain ahead of the Diamondbacks in their duel for second place in the National League West. The two-game difference is underscored by the fact that San Francisco has won 16 one-run games this year, while Arizona has won 14
While the Giants are just 3-2 in their current five-game span of one-run games, their pitching has given them a chance to win all five. That has occurred despite Alex Cobb being scratched from Monday's series opener because of an upset stomach, only to throw six strong innings on Tuesday
San Francisco manager Gabe Kapler said right-hander Logan Webb (8-9, 3.49 ERA), Wednesday's scheduled starter, was on standby in case Cobb had to cancel again
"It's what you're willing to do for the team. We have a really, really selfless group," Kapler said. "Alex is ready to do that for the team. Logan is ready to do that for the team.
Sean Manaea, who was making his 25th appearance of the season, pitched for just the second time this year in the ninth inning. He recorded his first career save by getting the final two outs, the last of which came on catcher Patrick Bailey's pickoff at first base
Webb will seek to end a personal three-game winless streak on Wednesday. His most recent outing was a 3-2 home loss to the Boston Red Sox last Friday in which he allowed three runs in 7 1/3 innings
Webb had a win and a no-decision in two earlier starts against the Diamondbacks this season, giving up four earned runs in 14 innings. He's 4-2 with a 2.63 ERA in eight career starts against Arizona
Still with a chance to catch the Giants in the West with two games remaining in the series, the Diamondbacks have scheduled right-hander Slade Cecconi in line for his major-league debut Wednesday
Cecconi, 24, was one of Arizona's first-round picks in 2020. He was 4-8 with a 6.38 ERA in 20 starts at Triple-A Reno prior to his promotion
The Diamondbacks had kept Wednesday's slot open in case they were able to acquire a starter at Tuesday's trade deadline. They dealt for four players over two days, but three were position players and the other a reliever
"That market was really tough. There weren't a lot of starters out there available," Diamondbacks general manager Mike Hazen said. "We were willing to overpay, in our mind, for a starter. As it goes, those things go to a certain point, especially with a rental, that you feel like, 'How far are you willing to push it?' We were pushed past areas where what we would have felt like was fair value for a rental.
--Field Level Medi